How to clean up after a flood
Flooding often brings sewage and mold. It's important to take precautions when drying out a flooded home. The Red Cross has a free booklet.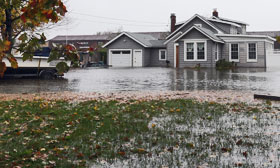 The photos from New York, New Jersey and elsewhere in the region show incredible damage, much of it caused by storm surge and flooding. It's hard to know when people whose homes were inundated will be able to return, but when they do they face a big clean-up job.
Cleaning up after four feet of water has swamped your house is a bit more complicated than cleaning up after a few inches of water has seeped into your basement. It's important to disconnect electricity and gas lines, even if the power is out, before venturing into a home that has been flooded.
Post continues below
"The most important thing to consider before going into a house after a flood is safety," Ed Weingartner, the chief executive of Dynamic Restoration, a disaster-recovery company in West Chester, Pa., told The New York Times in 2008. "If you had a significant amount of water in the basement, either call the power company and tell them to disconnect the service, or ask an electrician to check to make sure it's safe."
The water itself may contain germs and bacteria, which makes it important to wear gloves and wash your hands often while you're working.
Some items, like wood flooring and plaster walls, may eventually dry out enough that they will not have to be replaced. But drywall and some kinds of insulation are gone for good.
Rugs and mattresses that came into contact with floodwaters probably should be discarded. Other belongings can be cleaned and disinfected.
The Centers for Disease Control and Prevention has information on its website about staying healthy when re-entering and cleaning your flooded home. The Red Cross has a 57-page booklet you can download with detailed instructions about how to repair your home and salvage your belongings.
Here are some tips from those agencies about cleaning up after a flood:
Check for damage to your home's foundation before you go back in. If you have doubts, consult a contractor or other professional about whether it is safe to enter.

If your ceiling is sagging, poke a hole at the corner to check for trapped water. You don't want the weight of a ceiling saturated with water to fall on you.

Walls, floors and other hard surfaces such as countertops should be cleaned with soap and water and then disinfected with a bleach solution (1 cup of bleach to five gallons of water). Be especially careful of surfaces that come in contact with food.

Try putting books, papers and photographs in plastic bags in a relative's freezer until you have time to thaw them and clean them up. It's possible some can be saved.

To minimize mold, dry the house out as quickly as possible. That might mean opening the windows, using fans or using dehumidifiers.

Don't try to drain your basement until the water outside has receded.
Have you ever cleaned up after a flood? What advice would you offer?
FIND YOUR DREAM HOME OR APARTMENT
msn real estate is social
WHAT'S YOUR HOME WORTH?
HOME IMPROVEMENT PROFESSIONALS
more on msn real estate