Communities require dog DNA tests to ID unscooped poop
Condo and apartment complexes are requiring dog owners to submit DNA samples to help them identify which pets are leaving messes.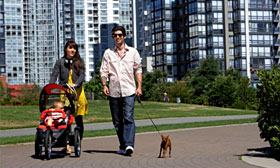 I used to go outside barefoot in the morning to get my newspaper. Until one day I stepped in – ick – dog poop. After that I was more careful, but I was extremely annoyed that one of my neighbors was letting his mutt poop in my yard every day and not cleaning up. I never discovered who it was.
Some condo associations and apartment complexes have a new measure to fight dog poop: DNA testing. As a condition of living in the community, owners will have to get their dogs' DNA tested so the association can keep the information on file.
If any unscooped poop is found, the association can send a sample off to find out which offending pooch (and owner) is at fault.
The latest association to sign up for this doggie CSI program is the 458-unit Village of Abacoa in Jupiter, Fla., just up the road from Palm Beach.
Condo leaders say the association is spending $10,000 to $12,000 a year to clean up what dogs are leaving in elevators, stairwells, carpets and common areas outside.
"The smell is disgusting. Residents are embarrassed to have company. Dog crap is everywhere," property manager Susan Nellen told The Palm Beach Post.
Post continues below
The association plans to charge residents $200 each for the tests until Aug. 31, when the fee will rise to $500. The test costs only about $90, but the rest of the money will be used for cleanup and poop bags provided to owners.
The owners of dogs who leave their offending excrement in inappropriate locations can be fined up to $1,000, with liens places against their property if they don't pay.
The use of doggie DNA to identify which dogs have left messes is becoming more common. An apartment complex in New Hampshire is requiring tenants to submit their dogs' DNA when they rent, and a complex in New York plans to do the same. But a condo board in Baltimore tabled the idea of a doggie DNA program after opposition from residents, deciding to explore other options.
What do you think? Is requiring owners to give up their dogs' DNA a good way to combat the problem of errant poop? Or is it too big an invasion of privacy?
FIND YOUR DREAM HOME OR APARTMENT
msn real estate is social
WHAT'S YOUR HOME WORTH?
HOME IMPROVEMENT PROFESSIONALS
more on msn real estate