Building permits up 26.8% over this time last year
Single-family permits rose 25.3% and multifamily rose 30.4%. Housing starts fell slightly from October to November but remained 21.6% ahead of last year's pace.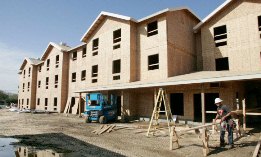 Builders started construction on fewer new homes in November than in October, but got permits for more, indicating that the industry has reason to be optimistic about 2013.
If building continues at its current pace, builders will start 861,000 new homes this year, 21.6% above last November's pace but 3% below the October pace, according to the latest data from the Commerce Department.
The number of building permits sought rose 3.6% from October to November and was 26.8% above the November 2011 pace.
Single-family housing starts were down 4.1% from October but up 22.8% since last
year. Multifamily starts were up 1.2% from October and 19.2% over last November.
The number of single-family permits was down 0.2% from October but up 25.3% from last November. Permits issued for building of five or more units were up 10.4% from October and 30.4% from November 2011.
The single-family home number is more meaningful. The total index includes multifamily construction, which fluctuates more month-to-month.
"Many builders have reported improving conditions in their local housing markets and are increasingly optimistic about the spring buying season, but they are being very careful not to get ahead of demand," Barry Rutenberg, chairman of the National Association of Home Builders (NAHB) and a homebuilder from Gainesville, Fla., said in a news release. "Meanwhile, tight credit conditions are still the chief obstacle to a quicker recovery."
Another bit of data that provided a bit of holiday cheer was that the Architecture Billings Index, compiled by the American Institute of Architects, rose for the fourth straight month, hitting its highest level since November 2007. That is a harbinger of more construction ahead.
"There's an optimistic view toward design again, and it's not just the big firms," Gary Davis, head of marketing for A. Zahner Co., a Kansas City metal fabricator and engineering firm, told The Wall Street Journal. "People are calling about design questions again, rather than just calling to ask, 'Do you have a cheaper way of doing this?'"
FIND YOUR DREAM HOME OR APARTMENT
msn real estate is social
WHAT'S YOUR HOME WORTH?
HOME IMPROVEMENT PROFESSIONALS