Sales of new homes up 5.7%, to 2-year high
The falling number of existing homes for sale is spurring the sale of new homes. September's numbers were the highest since April 2010, when a tax credit boosted sales.
Post begins below video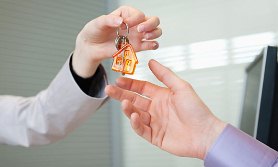 The number of new homes sold in September rose to the highest level in more than two years.
The 5.7% increase from August to September would equal 389,000 new homes sold in a year, less than half the number sold in a healthy market but 27.1% above the rate in September 2011, according to data from the Census Bureau and the Department of Housing and Urban Development.
"All the housing data has taken a turn for the better," Steven Ricchiuto, chief economist for Mizuho Securities, told the Los Angeles Times. "Clearly, mortgage rates at such a low level and what appears to be an increase in banks' willingness to make loans has boosted activity off the lows. The gains look large on a year-over-year basis, but that owes to the exceptionally low level of activity."
The home-sales number was the highest since April 2010, when a homebuyer tax credit spurred sales.
The market for new homes is benefiting from the shrinking number of existing homes for sale. Would-be buyers who could once get a deal on a distressed home now are having a hard time finding anything for sale at all, particularly in lower price ranges.
The number of new homes for sale also is small, about 145,000 nationwide, or 4.5 months' supply at the current rate of sales. Builders have only 38,000 homes for sale that are ready to move in.
The median sale price for a new home in September was $242,400, down 3.2% from last month but up 11.7% from a year ago.
"The price increase is primarily a result of larger, move-up homes being sold rather than an increase in home prices," David Crowe, the chief economist for the National Association of Home Builders, wrote in the NAHB's Eye on Housing blog. "Move-up buyers with equity and the ability to pass rigid credit checks are a larger share of the market and tend to buy more expensive homes."
Figures varied by region. Crowe provided quarterly regional numbers, which he said were a better gauge:
South: Sales up 16.8% in September, up 4.9% for the quarter.

Midwest: Sales down 37.3% in September, down 8.2% for the quarter.

Northeast: Sales up 16.7% in September, up 18.5% for the quarter.

West: Sales up 3.9% in September, up 4% for the quarter.
FIND YOUR DREAM HOME OR APARTMENT
msn real estate is social
WHAT'S YOUR HOME WORTH?
HOME IMPROVEMENT PROFESSIONALS
more on msn real estate