Bank works with cities to combat foreclosure blight
Bank of America to donate abandoned houses and condos to city of Chicago and help pay for demolition. The bank is also working with Detroit.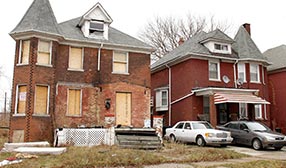 One of the biggest problems caused by the foreclosure crisis is the effect that vacant and abandoned homes have on neighborhoods. The issue is particularly bad in inner-city neighborhoods.
In Chicago, Bank of America has agreed to help combat foreclosure blight by giving the city up to 150 abandoned houses and paying for them to be demolished, after expediting the cases through the new Cook County vacant and abandoned building court.
Twenty-six abandoned condominium units will be given to the nonprofit Community Investment Corp., which will get them fixed up and turned into rentals for low-income residents.
"As we continue to face the worst recession in 70 years, addressing the foreclosure problem is essential," Richard M. Daley, then the city's mayor, said in a news release. "In addition to helping support social efforts, Bank of America is working with the city to help protect residents and communities from the dangers posed by vacant properties."
Bank of America participated in a similar initiative in Detroit. That city is also offering incentives for police officers to move into foreclosed homes.
The Woodstock Institute, which has focused on this issue in Chicago, found that vacant and abandoned properties were disproportionately represented in African-American neighborhoods. In a report, it explained some of the problems:
The foreclosure crisis has exacerbated ongoing concerns about the impacts of vacant homes on communities. The loan servicer, who is the typical steward of a property throughout the foreclosure process, may choose to reduce the costs associated with a long-term vacant home by walking away from the foreclosure process instead of completing it or may avoid maintaining a vacant home up to local code standards. In both cases, the vacant home is subject to limited or no oversight and poses a substantial risk to the surrounding community, such as lowering property values, attracting criminal activity and causing blight.
About Teresa Mears
Teresa Mears is a veteran journalist who has been interested in houses since her father took her to tax auctions to carry the cash at age 10. A former editor of The Miami Herald's Home & Design section, she lives in South Florida where, in addition to writing about real estate, she publishes Miami on the Cheap to help her neighbors adjust to the loss of 60% of their property value.
msn real estate is social
FIND YOUR DREAM HOME OR APARTMENT
WHAT'S YOUR HOME WORTH?
HOME IMPROVEMENT PROFESSIONALS
from our partners