New homes: Starts down, but permits up
The 'catfish' recovery of the housing market is reflected in the latest statistics on new construction. Building permits hit their highest level in 3.5 years.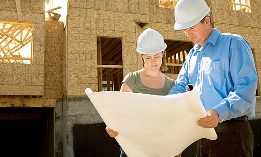 It was more good news/bad news Tuesday when the U.S. Commerce Department reported that the number of housing starts declined 5.8% from February to March, but the number of building permits rose 4.5%.
The building permit number was the highest since September 2008, though it still remains about half the level of a healthy market.
And the "catfish recovery" goes on, as the housing market flops along the bottom like a catfish.
Post continues below
"While combined U.S. housing starts lost some ground in March, this was almost entirely due to typical month-to-month volatility on the multifamily side," said David Crowe, the chief economist for the National Association of Home Builders, in a news release. "The fact is that single-family and multifamily starts and permits were all stronger in the first quarter of 2012 than they were in the fourth quarter of 2011, indicating that the market continues to slowly strengthen, albeit in fits and starts."
The decline in housing starts was primarily driven by multifamily construction, always a more volatile measure, which fell 16.9% from February. The number of single-family homes upon which builders started construction was basically flat, down 0.2%.
The number of permits issued for new construction rose 4.5%, the best showing in 3.5 years. Permits for multifamily construction were up 20.8%, while single-family permits declined 3.5%.
Looking at the statistics by region:
South: Housing starts down 15.9%, building permits up 0.3%.

Northeast: Housing starts up 32.8%, building permits down 6%.

Midwest: Housing starts up 1%, building permits up 1.7%.

West: Housing starts unchanged, permits up 23.4%.
Expect more volatility in statistics going forward, analysts said.
As Gregory Miller, chief economist of Suntrust Banks, told Reuters:
"The production side of the housing market is in the early stages of recovery, but builders are shifting their composition of products from condos and single-family homes to apartment construction. It's going to be rocky for a while. You still have inventory overhang. There are also issues on the financing side of production as well as the mortgage side. The problem is getting over the financing hurdle. Lenders are still very concerned about where they put their capital.

"From a trend perspective, it is still on a rising path. Tentative is the best we could say about this."
FIND YOUR DREAM HOME OR APARTMENT
msn real estate is social
WHAT'S YOUR HOME WORTH?
HOME IMPROVEMENT PROFESSIONALS