America's ugliest mansions? Maybe not
The futuristic house that appeared in Woody Allen's 'Sleeper' made Forbes' list of ugly mansions. See what you think.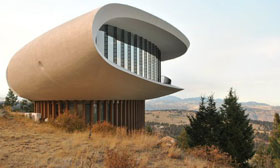 If you're in the mood to make fun of the rich, Forbes has rounded up a list of what it calls "America's Ugly Mansions."
We're not sure how they narrowed the list down to just seven. We particularly hate the fake Mediterraneans with two-story entryways and marble floors that proliferate in Florida and California. If there is one thing American architecture demonstrates, it is that money and taste do not always go together.
We've actually seen much uglier than the homes on the Forbes list, and we're not sure we find the Colorado home known as the "Sleeper House" ugly at all. The Colorado media are quite huffy about the designation, too.
Post continues below
"The magazine claims  'it's perfect ... for aliens' — but plenty of us humans love the place," Michael Roberts writes at Westword, which published a large gallery of photos so you can make your own decision.
"Everybody has a story about driving up to go skiing and seeing it," owner Toni Winkler, who first noticed the house on the way to camp when she was in sixth grade, told The Denver Post last year. "Everybody has a connection."

If you think the home looks familiar, it could be because you saw it in the 1973 Woody Allen film "Sleeper."
The house was designed in 1963 by architect Charles Deaton, who also designed Kauffman and Arrowhead stadiums in Kansas City, Mo. The house has four bedrooms and four baths in 6,805 square feet. It's on 5.28 acres and is visible from Interstate 70.
The iconic home sold at a foreclosure auction in late 2010 for just over $1.5 million, less than half of what the previous owner paid for it in 2006. Winkler and her husband, Larry, plan to live in the home once they complete improvements to make it energy-efficient. That includes figuring out what to do about 156 mostly single-pane windows.
"Architecturally, the house is over the top, but energy-efficiency-wi​se, it's not so cool — or it's very cool," Larry Winkler told The Post. "We want to make it a 'green' house. Right now, it's a chunk of concrete and glass sitting on top of a mountain."
The Winklers plan to store the furniture, also designed by Deaton, which is not their style.
What do you think? Is this an ugly mansion?
FIND YOUR DREAM HOME OR APARTMENT
msn real estate is social
WHAT'S YOUR HOME WORTH?
HOME IMPROVEMENT PROFESSIONALS
more on msn real estate