Museum wants to tell the story of suburbia
The National Museum of Suburbia would let us peer over the fence into a force that has helped shape America. It is proposed for the Kansas City suburbs.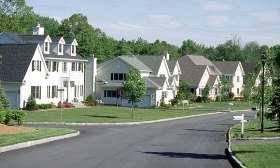 Love it or hate it, the culture of suburbia has had a profound effect on America.
Officials in Overland Park, Kan., a suburb of Kansas City, Mo., want to memorialize that suburban culture in a new National Museum of Suburbia.
"Suburbia is a phenomenon that is unfolding in our own time," Larry Meeker, president of the Johnson County Museum Foundation Board, told The Wall Street Journal. "I'm virtually 100% certain there will be a museum of suburbia."
Post continues below  
As he notes, hasn't suburbia had far more impact on American life than barbed wire and light bulbs, both of which rate their own museums? Perhaps the new Museum of Suburbia can pick up some of the exhibits once housed in the now-defunct Tupperware Museum.
It is harder to find a better example of suburbia than Johnson County, Kan., where good schools, leafy yards and strip-mall shopping have lured Kansas Citians since the early 1900s.
The museum is to occupy a former bowling alley and ice-skating rink, just up the street from a less successful bit of suburbia, Metcalf South mall, which opened in 1967 but in less than 40 years had descended to "ghost mall" status.
One exhibit envisioned for the museum is a fence with peepholes through which museum visitors can see actors in "period" suburban clothing, presumably engaging in such quintessential suburban activities as the backyard barbecue and the coffee klatch. Replicas of a bowling alley and a drive-in movie theater also may be included.
Overland Park, a city of about 175,000 people spread over 73 square miles, often makes the "best" lists. It was ranked as one of Money Magazine's Best Places to Live in 2012. Not only is it home to suburbs dating from 1905 to the present, it has a small, historic downtown, which has been spruced up in recent years. The museum plan has a number of hurdles still to surmount, making it unlikely to open before 2018.
As much as I hate to admit my childhood occurred long enough ago to merit a museum, the argument that suburbia and its impact on American culture is worth commemorating is hard to dispute. Johnson County museum officials also plan a Suburban Policy Forum, which will unite academics and municipal officials in discussing suburban life and its challenges.
"Suburbia is much more complicated than houses on a road," Mindi Love, executive director of the Johnson County Museum, told The WSJ. "We want to tell the story of suburbia, the good and the bad."

The museum should include a feature on how CITIES have deliberately encouraged suburban decline.

By definition, the purpose of a city is to subsidize its suburbs at all costs, whether through direct transfers of cash or job preferences for suburban residents. Lately, however, cities are NOT funding their suburbs, but instead steal jobs FROM the suburbs (by illegally allowing city residents to work at jobs within the city limits) while exporting crime and poverty and other problems TO the suburbs.


The architectural design "concept" of Suburbia is based upon an idea that is grounded in the formal idea that everybody in a region is basically THE SAME.
Families who are happy in the ultra clean undiversified environment of Suburbia often have less or no identity because the community standards are developed by house and building design teams who want certain types of people to live and maintain career ideals in places that are safe from the ugly sprawl of large industrial cities, pollution, or crime and other "bad" things.
However, most of the houses that are built in Surburbia have less constructive or architectural integrity than older homes built before 1935.
I grew up in a house that was built in the 19th century.
Newer homes may be nicer, but they frequently have less historical value than older properties owned by  intelligent people who desire to live and maintain historical vigilence and prosperity.
How hideous is a Mall compared to a small privately owned store?
Although some trailers in the country are nice, I'd rather live in a real house with a neat identity that has not been determined by a Suburban building contractor.
Are you sure you want to delete this comment?
FIND YOUR DREAM HOME OR APARTMENT
msn real estate is social
WHAT'S YOUR HOME WORTH?
HOME IMPROVEMENT PROFESSIONALS
more on msn real estate