Listing of the Week: Stars lived and partied here
Estate where Frank Sinatra and Marilyn Monroe once lived also has appeared in TV shows and movies. Don Draper slept (and more) here.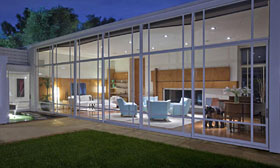 We bring you a Listing of the Week that has been visited by a number of famous people: Frank Sinatra, Marilyn Monroe, Judy Garland, Vincente Minnelli, maybe President John F. Kennedy.
Perhaps you saw it on the "Jet Set" episode of "Mad Men," when Don Draper traveled to Palm Springs and did a little more than sleep there.
The house is in Chatsworth, Calif., in the northwest section of Los Angeles. The low-slung glass house is at the top of a hill, on 5.5 acres, with an additional 9.5-acre section that has a vineyard and horseback riding trails. It's surrounded by 3,000 acres of nature preserves. The 10,000-square-foot main house has four bedrooms, 5.5 baths and a pool. A separate 1,000-square-foot guest house has one bedroom, 1.5 baths and its own pool. The estate, known as Farralone, has parking for 200 cars, the listing notes. Asking price is $12 million.
Post continues below
"If walls could talk, this house has had more celebrities in it than just about any other house in Los Angeles," listing agent Lynn Teschner of Coldwell Banker Previews International Realtor told Forbes.
The house was built in 1951 for Chase Manhattan Bank heiress Dora Hutchinson, who used to host lavish parties for famous guests.
After Hutchinson moved to New York, she rented the house to Sinatra, who lived there for about 10 years, according to Forbes. Sinatra, in turn, sublet the guest house to Monroe, who reportedly met Kennedy there, though we can't find any definitive source for that tidbit.
We didn't find anything to indicate who owns the house now. It is used often enough for TV and movie shoots to have a property manager, paid for by the studios, and a production studio. According to the listing, the estate earns $500,000 to $2 million a year as a movie and TV location.
The home has appeared in "Californication," "Dream Girls," "Ali" and the upcoming "Savages" series. The pool was the site for Usher's "Burn" music video. You can see how it looked on "Mad Men" here and see a slide show of full-screen photos here.
The house was designed by architects William Pereira and Charles Luckman, who worked on a number of well-known buildings in California, including the Theme Building at Los Angeles International Airport.
FIND YOUR DREAM HOME OR APARTMENT
msn real estate is social
WHAT'S YOUR HOME WORTH?
HOME IMPROVEMENT PROFESSIONALS
more on msn real estate