These 'as-is' homes may be missing walls
Some homeowners in the areas hit hard by superstorm Sandy are selling their houses without doing any repairs, hoping the lure of oceanfront still holds.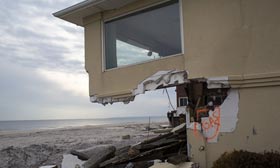 The havoc superstorm Sandy wrought on the Rockaways section of New York's Long Island is giving a new meaning to selling a home "as is."
Rather than spruce their homes up for sale, or even make them habitable, some owners are offering their wrecked homes for sale the way Sandy left them.
"It's sad to see houses like this, and it's also much harder to show," real-estate broker Lisa Jackson told The New York Times. "There are some houses where I have to climb over beams to get inside because the front door — we can't get it open."
Post continues below
This being New York, these wrecks of homes are being offered at prices in the millions, reflecting their prime waterfront locations – though commenters on the Times story were quick to point out that many homes in the Rockaways would sell for much less, even without storm damage.
Anyone who has ever lived through a major home renovation, particularly one forced upon them, could understand the allure of selling the damaged home and moving to one that is already livable.
Jackson's listings include two bare oceanfront lots, the houses gone, and the remains of a house that burned to the ground, as well as a few houses that, while not currently habitable, may be fixable.
Those listings include an oceanfront home now missing most of the walls on the water side, offered for $3 million. So far, the owners have rejected several offers in the $2 million range. Before the storm, the home would have listed for $4 million to $4.5 million.
"Believe it or not, anyone who buys this is getting a very good deal," Jackson told The Times. "Even if they took down the house and rebuilt, they'd have a prime oceanfront location. ... I feel funny saying that right now: 'prime oceanfront location.'"
It's still too soon to know what effect the storm will have on home values in the affected areas. New York Gov. Andrew Cuomo is proposing that the government buy up homes in some coastal areas to keep them from being rebuilt.
Many predict that the lure of waterfront property will outweigh the fear of storms in the long run. Building has boomed in Miami in the 20 years since Hurricane Andrew devastated the southern suburbs.
"The allure of having an oceanfront property is just too great," Lawrence Yun, the chief economist for the National Association of Realtors, told Bloomberg last year. "People recognize that there are bad natural-disaster events, and they just cross their fingers and hope it doesn't happen to them."
Are you sure you want to delete this comment?
FIND YOUR DREAM HOME OR APARTMENT
msn real estate is social
WHAT'S YOUR HOME WORTH?
HOME IMPROVEMENT PROFESSIONALS