Builder confidence hits 5-year high again
One obstacle to more sales of new homes may be a shortage of land for building in desirable areas. Plus, tight credit and low appraisals remain problems.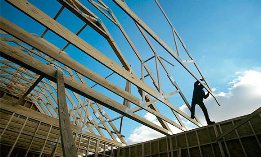 Builders' confidence in the health of the housing market for the next six months rose one point in June, taking it to a level last seen in May 2007.
If you think this sounds familiar, it's basically the same thing we told you in May. The National Association of Home Builders/Wells Fargo Housing Market Index rose from 28 to 29, after the initial report of 29 for May was revised to 28.
"This month's modest uptick in builder confidence comes on the heels of a four-point gain in May and is reflective of the continued, gradual improvement we are seeing in many individual housing markets as more buyers decide to take advantage of today's low prices and interest rates," Barry Rutenberg, chairman of the NAHB and a home builder from Gainesville, Fla., said in a news release.
Post continues below
The index measures how builders feel about the market. A level of 50 indicates that half the builders are optimistic and half pessimistic about the next six months.
Builders continued to say that "overly tight lending conditions and inaccurate appraisals" were impeding sales. Another obstacle may be a shortage of building lots in good locations, The Wall Street Journal reports.
In Atlanta, for example, where prices of existing homes are continuing to fall and 120,000 vacant lots are ready for building in mostly far-flung suburbs, bidding wars are breaking out over land in close-in subdivisions.
"A lot of the demand during the boom was speculative demand, not real user demand, and speculative demand was blind to location," Brad Hunter, chief economist for housing research firm Metrostudy, told the WSJ. "Real demand is now concentrated in those core counties."
The building sentiment varied by region. The index rose from 26 to 31 in the Midwest and from 29 to 33 in the West. But it fell from 31 to 29 in the Northeast and 28 to 26 in the South.
About Teresa Mears
Teresa Mears is a veteran journalist who has been interested in houses since her father took her to tax auctions to carry the cash at age 10. A former editor of The Miami Herald's Home & Design section, she lives in South Florida where, in addition to writing about real estate, she publishes Miami on the Cheap to help her neighbors adjust to the loss of 60% of their property value.
msn real estate is social
FIND YOUR DREAM HOME OR APARTMENT
WHAT'S YOUR HOME WORTH?
HOME IMPROVEMENT PROFESSIONALS
from our partners