Hire a circus, sell your house
Real-estate agents throw lavish parties to lure buyers and brokers to high-end properties. How about Botox and foot massages? Car washes?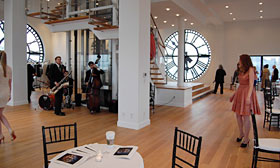 If your real-estate agent has put on an open house at your place, she may have brought a plate of cookies and some bottled water. An open house for agents might have included lasagna from Costco.
You mean your agent didn't bring a mini-circus? Or offer free Botox?
The competition to sell luxury homes has raised the bar on open-house parties. The multimillion-dollar home set is not setting out hors d'oeuvres from Costco.
At a recent open-house gala for an $8 million property in Santa Monica, Calif., agents hired a minicircus, which included stilt walkers and a contortionist in a clear plastic bubble in the pool.
Post continues below
"Price is key, but it's the presentation that will sell the property," agent Lisa Sorrentino told the Los Angeles Times. Hiring the minicircus paid off, she said; someone who came by now wants to rent the home for $22,500 a month.
If you share my guilty pleasure of watching "Selling New York" and "Selling L.A.," you've seen some glitzy parties designed to lure buyers and brokers to high-end properties. The real-estate companies shell out thousands of dollars for these galas.
In the go-go days of the Miami condo boom, developers regularly threw fancy parties for prospective buyers. I remember one that included seafood stations, open bar and fireworks. But those developers were selling hundreds of units, not just one house. The fancy condo parties are making a comeback, too.
But spicing up the traditional open house to lure buyers isn't confined to Los Angeles, Miami and New York. In Baltimore, agents have done car washes, held art shows and put on tailgate parties.
The free Botox (actually, it was a raffle) was part of an open house put on by agent Michael Gardner in Beverly Hills. Attendees also got foot massages by the pool. He thought the $1,400 cost for the party was well worth it.
"I got three to four times the traffic I normally would have for a house up a hill in an out-of-the-way location," he told the Times.

I think realtors are doing nobody any favors doing such things to sell a house. Its like a retail store or a automaker having discounts or rebates all the time. Eventually people will begin to expect it even when things improve. I think if we are ever going to see stabilization in housing prices. We have to realize that their is a fine line between discounting for a quicker sale and desperation.
Are you sure you want to delete this comment?
About Teresa Mears
Teresa Mears is a veteran journalist who has been interested in houses since her father took her to tax auctions to carry the cash at age 10. A former editor of The Miami Herald's Home & Design section, she lives in South Florida where, in addition to writing about real estate, she publishes Miami on the Cheap to help her neighbors adjust to the loss of 60% of their property value.
msn real estate is social
FIND YOUR DREAM HOME OR APARTMENT
WHAT'S YOUR HOME WORTH?
HOME IMPROVEMENT PROFESSIONALS
from our partners