Listing of the Week: Live near a slice of baseball history
This St. Louis property, steps from two former Major League Baseball stadium sites, is just one of many homes built on or near historic sports spots.
Hey St. Louis Cardinals fans: Got World Series fever? Just imagine if you lived steps from the games. And instead of coming from deep in the heart of Texas, your World Series rivals came from — St. Louis.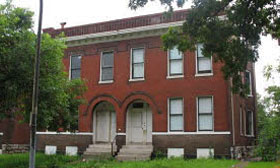 Such was the case in 1944, when the National League's Cardinals beat the American League's St. Louis Browns in six games at Sportsman's Park, the home field for both teams. It marked the final World Series in which all games took place in the same stadium.
It was one of seven World Series the Cards brought back to Sportsman's Park before the stadium was demolished in 1966; the Browns moved to Baltimore, changing their name to the Orioles, in 1954. And if you lived in our Listing of the Week, you'd likely have had a decent view of right field from your roof. Just like your best baseball buds in Chicago.
Built in 1902, according to Zillow.com, this 6,008-square-foot North St. Louis home is listed for sale as a multifamily property for $35,000. The brick duplex on Palm Place, boasting gas heat and four baths, may not look like much now, compared with the architecturallysignificanthomes and Beverly Hills palaces we've featured previously. But with Sportsman's Park less than two blocks away at Dodier Street and Grand Boulevard — and its predecessor, Robison Park, or "New" Sportsman's Park, just four blocks down — it was the center of St. Louis' baseball universe in the days when Stan Musial, not Albert Pujols, hit balls into orbit.
(By the way: Have a peek at the neighborhood near the Rangers Ballpark in Arlington, home of the Texas Rangers and this weekend's World Series games.)
Want to live where baseball heroes once called home? You have a chance in other cities, as well.
Post continues below
Here's a look:
In many cities, however, new stadiums were simply built on site of old ones. Others found new, nonresidential uses: Minneapolis' Metropolitan Stadium is now site of Mall of America. Remnants of Pittsburgh's Forbes Field, which closed in 1971, are now scattered throughout the University of Pittsburgh, whose campus now envelops the site. Arlington Stadium, where the Rangers played until 1993, is now a road to Cowboys Stadium, home of the NFL's Dallas Cowboys.
— Tony Stasiek is a producer/editor at MSN Real Estate.

FIND YOUR DREAM HOME OR APARTMENT
msn real estate is social
WHAT'S YOUR HOME WORTH?
HOME IMPROVEMENT PROFESSIONALS
from our partners