Single-family home building at 2-year high
The housing-start numbers were lower than analysts had predicted but still significantly above last year's level.
Post begins below video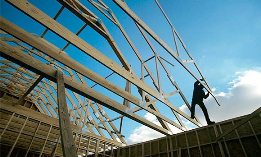 Builders didn't start construction on as many new homes in August as analysts had predicted, but the number of new single-family homes started was the largest in more than two years.
Data from the Department of Housing and Urban Development and the Census Bureau indicated that builders broke ground on 2.3% more homes in August than they did in July. That number was 29.1% higher than in August 2011. The number of single-family homes started was 5.5% above the July level.
Coupled with news that sales of existing homes were rising, the news buoyed the equities markets and added to the evidence that the housing market may finally be on the way back to normal, whatever that is now.
"The pace of overall housing production has been edging gradually upward all year as consumers become more confident in their local housing markets, and the latest data are further evidence that the housing recovery is here to stay," NAHB Chief Economist David Crowe said in a news release.
If the current pace of construction continues, builders will construct about 803,000 new housing units this year. Although that is way below the number built in a healthy market, it's up 60% from the trough in April 2009.
Despite issues dragging on the recovery, builders expressed the most optimism than they have in six years. They say they are seeing increased demand for new homes.
"Due to the industry's rebound and our increase in sales pace, our communities are selling out more quickly and literally caught us without being able to replenish as fast as we'd like,"  Ara K. Hovnanian, chairman and CEO of Hovnanian Enterprises, said in a recent earnings call, as reported by Bloomberg.
Still, the industry acknowledges that it will take a lot more improvement to return home-building to its position as a major economic engine. As they do every time they issue statistics, the builders association spokespeople noted in a news release that tight credit and appraisal problems were constraining sales.
About Teresa Mears
Teresa Mears is a veteran journalist who has been interested in houses since her father took her to tax auctions to carry the cash at age 10. A former editor of The Miami Herald's Home & Design section, she lives in South Florida where, in addition to writing about real estate, she publishes Miami on the Cheap to help her neighbors adjust to the loss of 60% of their property value.
msn real estate is social
FIND YOUR DREAM HOME OR APARTMENT
WHAT'S YOUR HOME WORTH?
HOME IMPROVEMENT PROFESSIONALS
from our partners