Listing of the Week: 1895 carriage house turned artist's loft
Two artists turned a decrepit Center City Philadelphia building into a studio and unique living space. Asking price is $1.495 million.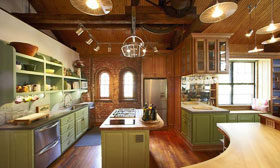 One of the most interesting pieces of the downtown revival going on in many cities is how buildings created for other uses are being turned into homes.
In Philadelphia, two artists turned what had been the carriage house for Wanamaker's department store into a unique home. After their breakup during a meticulous yearlong renovation, they put the property on the market. It's listed for $1.495 million.
The unique property features a lower-level artist's studio, a 30-by-26-foot open kitchen-living room loft-type area upstairs with a beamed cathedral ceiling, two bedrooms and two and a half baths in 3,699 square feet.
Post continues below
The home has an elevator and even a yard, though it is in Center City Philadelphia.
The project came about in an unexpected way. Jeff Carpenter and Sallie Ketcham were on the way to meet a real-estate agent to look at homes when they drove by the crumbling carriage house, built in 1895, with a "For Sale by Owner" sign that had gone up that day.
They knew it was the place for them and began drawing out the plans.
Though the renovation is true to the spirit of the old carriage house, the interiors are modern. The design drew upon the design of a boathouse. But the artists also drew inspiration from a horse sculpture created by a New Orleans artist from pieces the artist found before Hurricane Katrina. "It became a symbol for this project," Ketcham told The Philadelphia Inquirer.
They reused original materials where they could. When they removed old flooring to create a new stairway, they reused the flooring elsewhere. They had a roof truss milled into new stairs. A hoist and pulley once used to pull carriages to the second floor hangs above the kitchen island. "We used quite a lot of original material in the renovation," Carpenter told Curbed: Philadelphia. They also used stones they had found in Maine for doorknobs.
The boathouse inspiration led to a kitchen island that looks like the hull of a wooden boat. You can read about how it was made, plus more about the kitchen design, in Fine Homebuilding.
"Looking up at the beadboard ceiling rising up through the heavy trusses to the light in the cupolas feels like a Zen monastery I visited in Kyoto," Carpenter told The Inquirer. "It's a timeless sort of place for contemplation."
Are you sure you want to delete this comment?
FIND YOUR DREAM HOME OR APARTMENT
msn real estate is social
WHAT'S YOUR HOME WORTH?
HOME IMPROVEMENT PROFESSIONALS
from our partners