Underwater homeowners to get principal reduction
One lender will write down mortgages to 95% of home value in exchange for sharing future appreciation. Should more lenders follow Ocwen's lead?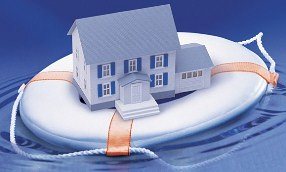 One foreclosure-fighting​ tactic that is often discussed but seldom done is principal reduction: forgiving some of the mortgage debt on underwater homes.
The rationale is that people who owe more than their homes are worth are more likely to default, which will end up costing the banks more and add more homes to the tsunami of foreclosures dragging down the housing market.
Ocwen Financial has rolled out a major principal-reduction program in 33 states, and is awaiting regulatory approval in others, that will award homeowners a mortgage modification that writes down the principal owed to 95% of the home's market value.
"You have folks breaking their necks to make payments on a home where there is no hope in their lifetime of it regaining equity," Ocwen Executive Vice President Paul Koches said to The Palm Beach Post. "A homeowner in a negative equity situation is one-and-a-half to two times more likely to go into delinquency."
The modification comes with strings attached: If the home rises in value, the homeowner will have to share 25% of the profits. Plus, the homeowner will have to make payments on time for three years to earn the principal write-off.
Not all Ocwen customers will be eligible. Only those borrowers who can demonstrate that their current payments are a hardship can participate, a number estimated at 53,000 nationwide.
Ocwen is not the only servicer to offer principal reductions, but it is the first to roll out a shared-appreciation modification. Bank of America is writing down some mortgages through the Keep Your Home California program. Other lenders also have offered principal reductions from time to time, but no other lender has launched a large-scale principal-reduction program.
Writing down principal isn't just good for the homeowner, who gets to stay in the home, but it also may benefit the investor in the loan, writes syndicated columnist Kenneth R. Harney:
The shared-appreciation and principal-reduction concept also works for the bond investors who actually own the mortgages, [Ocwen Chief Executive Ron] Faris said. The loans keep performing — unlike many other modification plans — and there's the possibility of a little sweetener at the end in the form of a portion of any appreciation that occurs beyond the revised appraised value on the house.
Post continues below
In negotiations with the federal government and state attorneys general, Bank of America has proposed doing principal reductions in exchange for being released from liability over legal claims. Whether that will be part of any final agreement is hard to say.
One large group of homeowners who have no chance of receiving a principal reduction are those whose loans are held by Fannie Mae and Freddie Mac, which refuse to accept writedowns on any of their loans. That's about half of all U.S. mortgages and most new mortgages.
The argument against principal reduction is that it isn't fair, because it compensates some homeowners and not others for the loss of equity in their homes.
What do you think? Is it better to offer widespread principal reductions and shorten the foreclosure crisis or is it better to refuse to reduce principal even if it prolongs the foreclosure crisis?

If you want the economy to get turned around the fastest, then there should be a mortgage principle reduction program. Mitt Romney says that we shouldn't do that. Well, that's because he is a millionaire and doesn't need the help like millions of others. People would spend more money and the economy would pick back up. Then, businesses will start to hire again and the unemployment will drop back down. Then, the government would have more revenue coming in and would be able to actually balance a budget for the first time since Clinton. This could happen within a year of the principle reduction program being started. Maybe I should run for President!
Are you sure you want to delete this comment?
FIND YOUR DREAM HOME OR APARTMENT
msn real estate is social
WHAT'S YOUR HOME WORTH?
HOME IMPROVEMENT PROFESSIONALS
more on msn real estate