Fewer new homes sold in March
But those numbers follow a strong February. New-home sales in the first quarter were 3.7% higher than in the previous quarter.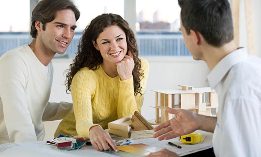 And we have another set of one-step-forward, two-steps-back housing statistics:
The number of new single-family homes sold in March was 7.1% lower than the number sold in February. But the number of new homes sold in the first quarter of 2012 was 3.7% higher than the number sold in the final quarter of 2011, the Commerce Department reported Tuesday.
"The bottom line is that builders in many markets are reporting more interest among prospective buyers, with the main sticking points for sales right now being access to credit for builders and buyers, and problems with obtaining accurate appraisals," said Barry Rutenberg, chairman of the National Association of Home Builders and a builder in Gainesville, Fla., in a news release.
Post continues below
If sales of new homes continue at the March pace, builders would sell 328,000 units this year. At the February pace, the number would be 353,000. Builders also said that good weather in February may have pulled some sales forward and made February an unusually strong month.
"This is exactly the kind of modest, but substantive, growth that we are expecting to see in the year ahead along with gradual firming of the economy and job market," NAHB chief economist David Crowe said in a news release.
The news followed the release of new statistics from S&P/Case Shiller that showed that prices were continuing to decline in many – but not all – cities.
The March new-home sales numbers also varied strongly by region:
Northeast: up 7.7%.

South: up 3.1%.

Midwest: down 20%.

West: down 27%.
Ryan Sweet, a senior economist at Moody's Analytics, expressed cautious optimism.
"Housing is going to gradually dig out of this deep hole because the job market is going to be firming," he told Bloomberg, predicting that home values "may still have a little more room to fall, but this will probably be the year that prices find a bottom."
About Teresa Mears
Teresa Mears is a veteran journalist who has been interested in houses since her father took her to tax auctions to carry the cash at age 10. A former editor of The Miami Herald's Home & Design section, she lives in South Florida where, in addition to writing about real estate, she publishes Miami on the Cheap to help her neighbors adjust to the loss of 60% of their property value.
msn real estate is social
FIND YOUR DREAM HOME OR APARTMENT
WHAT'S YOUR HOME WORTH?
HOME IMPROVEMENT PROFESSIONALS
from our partners