House for sale: 'Husband left us for a 22-year-old'
Oregon woman includes ex-husband's affair in her home's marketing plan: 'We loved this house. You will, too. No adulterers need apply.'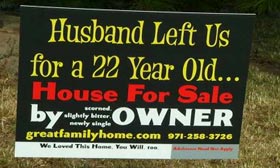 Elle Zober of Beaverton, Ore., wants prospective buyers to know there is nothing wrong with her house.
Her husband, or now ex-husband, however? That's another story.
"Husband left us for a 22 year old … House for sale by scorned, slightly bitter, newly single owner," reads the sign in front of the three-bedroom, one-bathroom home where the couple lived with their two young children.  "We loved this house. You will, too," the sign says, adding, "Adulterers need not apply."
Post continues below
Zober, 37, a photographer who owns a custom card business, made up the sign herself. Her goal was partly to share her story and partly to advertise the home, which she and her ex need to sell to afford their separate domiciles.
"I just thought it was truth in advertising," she told Fox 12 in Portland. "I want people to know it was a family home. It was well-loved and it was well taken care of. I want another family who will love it and care for it to move in."
Asking price is $169,000 for the 1,144-square-foot home with a detached garage, built in 1949. Zober and her ex, who were married for 10 years, have owned the home for seven years. She built a website to showcase the home and also to share her story about the divorce.
Her ex-husband, whom she refers to as El Capitan in "The Scorned & Slightly Bitter Blog," approved the sign. "As long as it sells the house, we're good," she told Fox 12. "Neither of us wants the house to end up in foreclosure."
Her story and the photo of the sign have been picked up by media worldwide, and she has gotten more than 675 comments on her blog posting, many from women who have found themselves in the same position. Divorce does rank as one of the top reasons for selling a home.
If you like the sign, you can buy a refrigerator-magnet version for $5.
Zober writes: "Just think, 40,000 or so magnet sales and I can buy my own house! bwahahahahah ... just kidding :)"
About Teresa Mears
Teresa Mears is a veteran journalist who has been interested in houses since her father took her to tax auctions to carry the cash at age 10. A former editor of The Miami Herald's Home & Design section, she lives in South Florida where, in addition to writing about real estate, she publishes Miami on the Cheap to help her neighbors adjust to the loss of 60% of their property value.
msn real estate is social
FIND YOUR DREAM HOME OR APARTMENT
WHAT'S YOUR HOME WORTH?
HOME IMPROVEMENT PROFESSIONALS
from our partners