Listing of the Week: Island home embraces industrial touches
A steel backsplash and kick plate in this Texas home's kitchen add flair to the 3-year-old abode.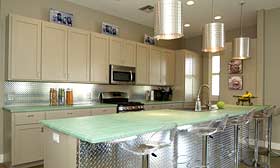 When we wrote about the potential decline of stainless-steel kitchen design this week, we predictably heard from steel's fans and foes.
Stainless faithful: Honestly, you were a little outweighed. So we found this home for you.
Suggested by Whitten Real Estate owner and broker Addie Belcher on our Facebook page, this 3-year-old house in Port Aransas, Texas, incorporates numerous modern touches in its five bedrooms and 3.5 baths. But perhaps its most notable is the kitchen's distinctive cleated-steel backsplash and kick plate, which impart the sleekness of a proudly industrial kitchen via a material most often seen in the bed of a Ford F150.
Post continues below
The current owners of the home, which is listed for $488,000, added this super-shiny material when they custom-built the property in 2009. It's not something Belcher says she has seen before — "especially not mixed with green glass tiles." But it is in line with the "reclaimed materials with nautical overtones" vibe in the rest of the home's 3,162 square feet.
For instance, the kitchen also features tie cleats — the kind you might see on a boat dock — as cabinet pulls, as well as boiling-pot light fixtures. Railings leading upstairs and to a king-bed-size loft in one bedroom are welded aluminum pipe.
The highlight is an open great room. Belcher says it has enough room for the next owners to entertain 30 or so guests.
It has gotten use: In January 2010, the home was featured in Port Aransas' Garden Club Tour. It may have been a peculiar choice, however, considering that a synthetic turf lawn spans the full property.
That's not something Belcher says she has seen before, either — especially in Port Aransas, the only town on Mustang Island, which sits between Corpus Christi, Texas, and the Gulf of Mexico.
In 1916, a hurricane wiped out the village. Since then, it has built itself back as home to 3,480 full-time residents. Add 20,000 visitors and second-home owners this time of year, Belcher says.
A public beach is a quarter-mile down the street from this home, whose owners had used it as their primary residence. They also added a detached, pull-through boat garage with back and front doors, so seafarers need not back their watercraft around the cul-de-sac and into the driveway.
For a tour of the property, check out this link.
— Tony Stasiek is a producer/editor at MSN Real Estate.
Are you sure you want to delete this comment?
FIND YOUR DREAM HOME OR APARTMENT
msn real estate is social
WHAT'S YOUR HOME WORTH?
HOME IMPROVEMENT PROFESSIONALS
from our partners