Nearly half of under-40 borrowers are underwater
But they are not the age group with the highest rate of delinquency.
The latest report on underwater mortgages by Zillow revealed a sobering fact: Nearly half of homeowners under 40 with mortgages owe more than their home is worth.
It's not surprising that younger homeowners are more likely to be underwater than older homeowners: If you bought a home between about 2005 and about 2007 in many parts of the country, you owe more than your house is worth. Demographics dictate that more younger people bought homes, often first homes, during that period.
While about 30.9% of all homeowners with mortgages have negative equity, 48% of homeowners under 40 owe more than their home is worth.
Post continues below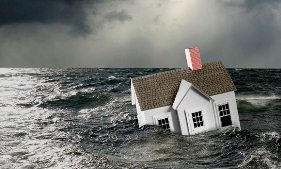 "Rising home values in the second quarter caused a decline in the number of underwater borrowers, but young homeowners continue to be disproportionately affected by negative equity," Zillow chief economist Stan Humphries said in a news release. "We hear about tight inventory in many markets, and it's clear where this is coming from. Negative equity is trapping young people in their homes, preventing them from selling. These homes are likely the very starter homes potential first-time homebuyers are seeking." 
Overall, the number of homeowners who are underwater declined from 31.4% to 30.9% from the first quarter to the second quarter, according to calculations by Zillow, which matched its home value estimates with mortgage balances recorded by TransUnion.
But this how the picture looks by age:
Borrowers 20 to 24: 39% underwater.
Borrowers 25 to 29: 48% underwater.
Borrowers 30 to 34: 51% underwater.
In contrast, starting at age 35, the percentage of underwater borrowers declines.
Despite their higher rate of negative equity, younger people are less likely to be delinquent on their loans. The highest rate of delinquency, according to the Zillow report, is among borrowers over 85 and borrowers 40 to 49. You can see charts here. 
The Zillow report looks at a variety of factors affecting negative equity. Homeowners who bought in 2006 and 2007 are most likely to be underwater. Those who bought in 2006 have the highest delinquency rate.
About Teresa Mears
Teresa Mears is a veteran journalist who has been interested in houses since her father took her to tax auctions to carry the cash at age 10. A former editor of The Miami Herald's Home & Design section, she lives in South Florida where, in addition to writing about real estate, she publishes Miami on the Cheap to help her neighbors adjust to the loss of 60% of their property value.
msn real estate is social
FIND YOUR DREAM HOME OR APARTMENT
WHAT'S YOUR HOME WORTH?
HOME IMPROVEMENT PROFESSIONALS
from our partners