Seeking to preserve a modern classic
The Getty Conservation Institute has embarked upon a project to help preserve the iconic Eames House near Los Angeles. The lessons learned will be used to save other buildings of the same era.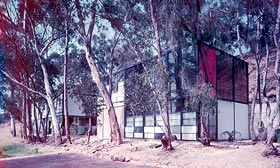 Time is seldom kind of any of us. And that goes double for buildings.
The Getty Conservation Institute has launched an initiative to preserve modern architecture, and the first project is the Ray and Charles Eames House in Pacific Palisades, Calif., near Los Angeles. The challenge is to find a way to preserve modernist buildings, many created with experimental materials.
The Eames house, also known as Case Study House No. 8, was built in 1949 by Ray and Charles Eames, industrial designers famous for their chairs. They constructed the home in 1949, using lots of glass and prefabricated-steel parts made for industrial construction.
Post continues below
It served as a home for the Eameses until their deaths, Charles in 1978 and Ray in 1988. The house is now owned by the family's Eames Foundation, and it has been little changed since 1988.
Conservation specialists are measuring to determine what effect moisture and the elements of a seaside location have had upon the home. While most of the home is intact, the living room's white vinyl asbestos floor tiles had already decayed and been removed, and architects are seeking a replacement.
"Our aim is to make sure it stays in great shape for another 250 years," Lucia Dewey Atwood, Charles Eames' granddaughter, told the Los Angeles Times.
That includes finding a way to preserve the home and its contents without sealing it or installing air conditioning. "Walking around with the windows open is an essential part of being here," Dewey Atwood, director of the foundation, told the Times.
The Getty Institute has allocated $250,000 for the project and hopes to learn lessons in preservation from this home that can be applied to other homes. Midcentury-modern architecture presents a special challenge to preservationists, the Times explains:
Modern buildings present a challenge for preservationists not simply because they're aging, with the earliest breakthroughs in modernism now nearly a century old. At the center of their work, modern architects put experimentation in materials and structure; many embraced the idea that their buildings would be lightweight and flexible — even temporary — rather than solidly monumental.
Are you sure you want to delete this comment?
FIND YOUR DREAM HOME OR APARTMENT
msn real estate is social
WHAT'S YOUR HOME WORTH?
HOME IMPROVEMENT PROFESSIONALS