Fannie, Freddie chief: No principal reduction
Edward J. DeMarco, acting Federal Housing Finance Agency director, says the mortgage giants will not use bailout funds to aid underwater homeowners. Treasury says that's a mistake.
Would cutting the principal of underwater mortgages owned by Fannie Mae and Freddie Mac help the housing market and economy? Nope, said Edward J. DeMarco, acting director of the Federal Housing Finance Agency, which oversees the two government-run enterprises.
Late Tuesday, DeMarco said that the mortgage giants would not heed the Treasury Department's suggestion to use Treasury funds to reduce homeowners' mortgage principal. The benefits of plan, DeMarco said, "do not outweigh the costs and risks." Treasury Secretary Timothy Geithner begged to differ.
Post continues below
From Geithner's letter to DeMarco:
"I do not believe it is the best decision for the country, because, as we have discussed many times, the use of targeted principal reduction by (Fannie and Freddie) would provide much needed help to a significant number of troubled homeowners, help repair the nation's housing market, and result in a net benefit to taxpayers."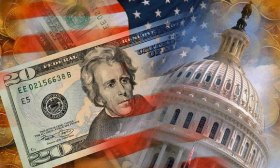 The battle comes down to numbers — and, of course, politics.
The government's expanded Home Affordable Modification Program has been aimed at cutting principal for borrowers who owe more on their mortgage than what their home is worth. But that program covers only loans backed by private investors. If Fannie or Freddie backs your mortgage, you're not eligible.
According to MarketWatch, Fannie and Freddie back or guarantee about 56% of all U.S. mortgages, and 11 million homeowners are underwater.
Thus, the scope of the aid has been limited. In the first quarter of this year, 10% of all mortgage modifications included a principal reduction. That was up considerably from a year prior, the Office of the Comptroller of the Currency said.
But more could be done, according to the Treasury. Its latest plan, which more than 100 members of Congress urged the FHFA to implement, would give the agency 63 cents of Troubled Asset Relief Program funds for each dollar of mortgage principal it writes down. Geithner cited FHFA analysis stating that write-downs could reach 500,000 borrowers — and that even if only half of them were affected, Fannie and Freddie would save $1.8 billion.
But with taxpayers already having kicked in $188 billion to keep Fannie and Freddie afloat, the write-downs may not be the right move, DeMarco said. In fact, he said, taxpayers would see no benefit if 3,000 to 19,000 borrowers who are now current on their mortgages take advantage of the program by strategically defaulting. Trickle-down impacts also could include "higher mortgage rates, reduced mortgage credit availability or both," according to an FHFA analysis (PDF).
Republicans have supported DeMarco's stance, while Democrats are among the backers of the Treasury plan.
— Tony Stasiek is a producer/editor at MSN Real Estate.
About Teresa Mears
Teresa Mears is a veteran journalist who has been interested in houses since her father took her to tax auctions to carry the cash at age 10. A former editor of The Miami Herald's Home & Design section, she lives in South Florida where, in addition to writing about real estate, she publishes Miami on the Cheap to help her neighbors adjust to the loss of 60% of their property value.
msn real estate is social
FIND YOUR DREAM HOME OR APARTMENT
WHAT'S YOUR HOME WORTH?
HOME IMPROVEMENT PROFESSIONALS
from our partners