Hydroponic gardening: Not just for pot growers anymore
New 'window farming' systems allow even apartment dwellers to grow vegetables and herbs in windows or on countertops without using soil.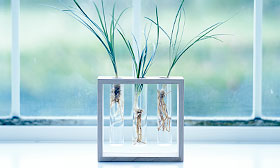 It used to be that the words "hydroponic gardening" went along with a certain illegal weed.
Now, new hydroponic mini-systems make it possible for you to grow herbs, vegetables and more without soil in your windows or on your kitchen counters.
We were tipped off to the latest trend of "window farming" by our friend Leah Ingram at Life Grows Strong.
Post continues below
She explains how it works:
In window farming, you place plants on vertical columns in a window. These vertical columns have nutrient-spiked water pumped from a common reservoir going top to bottom. Generally, you connect plastic bottles in a line to support the plant roots. With the help of pipes and timer-controlled pump, nutrients trickle down from one plant to another from the top of the window, circulating throughout the system. Unused nutrients and water are collected and repumped, making window farming an economical method of decorating your windows.
We haven't tried hydroponic gardening in windows yet, but someone gave us an AeroGarden a few years back, which we used to grow several crops of lettuce.
Britta Riley, who developed window-farm designs through crowd sourcing and runs the company and online community called Windowfarms, explains that one difference between the hydroponic systems used to grow pot and the ones put in your windows is cost.
"The difference between us and pot growers is all of the stuff designed for pot growers is way expensive," she told The New York Times.
Her site has instructions on how to build a window farm using old water bottles and materials that cost about $30. Windowfarms also sells kits, though the first batch is sold out.
Riley was getting a salad a week from her window farm in her Brooklyn, N.Y., apartment, though she has been traveling too much lately to keep it up.
"It's just fun to have food growing in your own apartment," Riley told NPR. "Especially during the winter months you've got this lush bunch of green lettuce that's growing in the window and kind of freshening the air in your apartment and it actually just looks pretty."
Have you tried small-scale (legal) hydroponic gardening at home? Would you like to?
Are you sure you want to delete this comment?
FIND YOUR DREAM HOME OR APARTMENT
msn real estate is social
WHAT'S YOUR HOME WORTH?
HOME IMPROVEMENT PROFESSIONALS
more on msn real estate