'Queen of Versailles': Boom and bust, supersized
Documentary follows family that sought to build a 90,000-square-foot home and a 52-story time-share tower as their dreams faltered.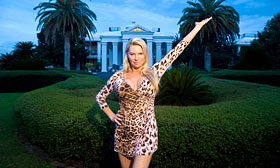 It was one of the great stories of wretched excess of the real-estate boom: A Florida couple was building the largest private home in the United States, a 90,000-square-foot version of the French palace at Versailles.

But the bust hit them hard, too, and six years after construction began, the home on 10 lakefront acres near Orlando remains an empty shell, offered for sale for $65 million, as is.
The home and the family that sought to build their own palace is the subject of a new documentary, "The Queen of Versailles." Director Lauren Greenfield calls her film "an allegory about the overreaching of America. It was like a supersize version of what had happened in so many places."
Post continues below
Greenfield began filming in 2008, when David Siegel, the owner of Westgate Resorts time-share company, and his wife, Jackie, an engineer turned model 30 years his junior, were living in a 26,000-square-foot home with their seven children and a niece.
Then the real-estate bust hit, taking a big bite out of Westgate's and the Siegels' fortune. A film that started out to document the building of the country's largest private home became a story of, as David Siegel put it in the film trailer, "kind of like a reverse of the rags-to-riches story. This is almost like a riches-to-rags story."
The construction of the home stopped in 2008. The numbers vary, but it supposedly was to have 13 bedrooms and 23 baths, plus 10 kitchens, a bowling alley, roller rinks, a two-story movie theater, video arcade, fitness center, 20-car garage, three pools and a baseball field.
"We never set out to build the biggest house in America," Jackie Siegel says in the film trailer. "It just kind of happened."
The film, which opened Friday in limited release, chronicles the couple's lives as their real-estate dream unravels, covering both the Versailles project and David Siegel's attempt to build the world's tallest time-share tower on the strip in Las Vegas. Eventually, he had to sell the 52-story tower.
The reviews of the film have been mostly favorable, though some reviewers have expressed disbelief about some details, such as the fact that Jackie Siegel, who grew up in a middle-class home, didn't know that rental cars did not come with drivers.
Writes Joe Nocera at The New York Times:
Even though the Siegels live in a different financial stratosphere from most Americans, Greenfield's metaphorical conceit works: Mr. Siegel's struggle to hold onto his resort — and his dream house — differs only in scale from the struggles of millions of Americans faced with foreclosure. People get depressed when they are about to lose something they care about. They lash out at the banks. They talk about changing their behavior. In one tragicomic scene Mrs. Siegel does her Christmas shopping at Walmart — but then overcompensates by practically buying the place out.
David Siegel has sued the filmmaker for defamation over the film's depiction of his business. Jackie Siegel, on the other hand, has expressed support for the film and attended the premieres.
It's unclear what will happen to the Versailles under construction. The home has been on the market for more than two years. Since last fall, the asking price has been cut from $75 million to $65 million as is, plus an additonal $25 million if you want it completed.
But David Siegel's lawyer told The Orlando Sentinel that the family still intends to complete the home and occupy it. Jackie Siegel told the "Today Show" this week that her husband's business is doing well and that the couple intends to finish the construction, but that they would be willing to sell for $100 million.
"We do have a happy ending," she told "Today." "We made it through this recession period that all of America went through."
Are you sure you want to delete this comment?
FIND YOUR DREAM HOME OR APARTMENT
msn real estate is social
WHAT'S YOUR HOME WORTH?
HOME IMPROVEMENT PROFESSIONALS