Why haven't toilets changed?
As bathroom design glams out, white porcelain remains the toilet choice du jour.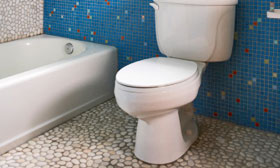 If you've remodeled your bathroom recently or simply shopped for new fixtures, you've likely noticed that the nontraditional has become mainstream.
For instance, it's perfectly acceptable — and relatively inexpensive — to choose a sink that's a brightly colored vessel, a nearly flat trough or just some kind of a mounted squiggle. Showers don't need walls or lips — but do sometimes resemble a water-park time machine. Flooring? Could be anything. Even beer-bottle labels.
And yet in even the most modern bathrooms, the most used and often most important fixture looks the same. So how come we all still have white porcelain toilets?
Post continues below
Gizmodo's Rachel Swaby posed the question in a post earlier this week. After consulting a product manager at fixture manufacturer Kohler, she reached a conclusion about why home toilets haven't changed.
They ain't really broken.
Swaby says porcelain's popularity can be attributed to three qualities:
It's functional: Flush toilets have reportedly been around since the 26th century B.C. Although they've changed a bit — from the siphon and tank innovations popularized by Thomas Crapper to the dual-flush, water-saving products out today — many of their mechanisms and shapes have remained the same for at least a century. But their precision still requires some maneuvering. Porcelain, mostly clay and water, can accommodate this — and provide a pretty covering for the stuff we don't want to see.

It's sanitary: Porcelain's glazed surface makes it easy to clean. And it's more resistant to liquid and bacteria than porous materials.

It's cheap: As Swaby notes, plastic is more than capable of emulating a toilet's curves, inside and out. But molding it, especially in large quantities, is more costly than shaping porcelain. "It's just too expensive to have a leading role," Swaby writes.
As for other materials: Carbon-fiber toilet bowls are available, and they're lightweight. A model from HeadHunter Inc. weighs just 10.9 pounds, compared with these Caroma toilets in the 80- to 100-pound range. You may find these in planes or boats, where fixture weight matters. But in a house? Well, your toilet is likely mounted to the floor or wall studs. You want something sturdy. Portability is a nonissue.
Stainless-steel bowls also are available, though they're not necessarily recommended for folks in cold climates or homeowners attempting anything but a "haute prison cell" look.
As for toilet colors other than white: We're told these exist, even outside of your grandma's house. Best of luck, however, finding a replacement soft-close seat in avocado.
— Tony Stasiek is a producer/editor at MSN Real Estate.
FIND YOUR DREAM HOME OR APARTMENT
msn real estate is social
WHAT'S YOUR HOME WORTH?
HOME IMPROVEMENT PROFESSIONALS
more on msn real estate