Stay-at-home dad wins Dream Home, but will he keep it?
HGTV's Dream Home giveaway is great for inspiring fantasies, but most winners can't afford to keep the houses.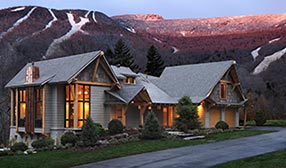 Come on, admit it. You've drooled over the HGTV Dream Home at least once over the years.
How could you not? The home is usually architecturally interesting, nestled in a beautiful spot and exquisitely photographed. This year's "don't-you-wish-you-​were-there" fantasy home was a 3,000-square-foot rustic mountain lodge in Stowe, Vt.
The winner of this year's HGTV Dream Home is Eric Makstenieks of suburban Chicago, who has entered the contest every year since 2003. He even sent in an entry from the hospital the day his daughter was born.
He found out about his victory last week when HGTV designer Monica Pedersen dropped by. The award will be televised at 8 p.m. Eastern March 19.
"It hasn't even hit us yet," Makstenieks told The Chicago Tribune's Bridget Doyle. "The most amazing part is the place is fully furnished — everything's already set up. Place settings, napkins, towels, you name it. One of the production guys even told us there's toothpaste in the cabinets. Do we even need a suitcase?"
Now Makstenieks and his wife, Catherine, who will see the house for the first time next month, have to decide whether they'll ever live in it.
Most winners don't.
Kathi Nakao, who worked in accounting for the state of California, won the Dream Home in St. Mary's, Ga., in 2004. She spent several vacations there, but she knew she'd never keep it.
"Ordinary people cannot keep a home like that," she told The Associated Press back in 2006, after she had sold the home. "I think it's meant to change your life, more than that they (HGTV) expect you to keep it."
With the money from the sale of the home, she paid the taxes on her winnings -- which on a $2 million prize can total more than $600,000 -- renovated her home in Sacramento, Calif., donated to charity, helped her children and bought a 1956 Chevy hot rod.
Don Cruz, who won the 2005 Dream Home in Tyler, Texas, moved his family from Illinois with the hope of keeping the home.
But the $250,000 in cash included with their prize and the proceeds from refinancing the home went quickly. Keeping up the 6,000-square-foot home was expensive, about $2,900 a month, not including $25,000 a year in property taxes and $7,000 a year for insurance.
When the federal tax bill for $672,000 came, they sold the house at auction in 2008 for $1.32 million, netting additional money from selling the contents.
Don and Shelly Cruz told Money Magazine in 2006, before the sale of the home, that they had no regrets. "It was great to live the life of the rich and famous, if only for a year," Don Cruz said. 
FIND YOUR DREAM HOME OR APARTMENT
msn real estate is social
WHAT'S YOUR HOME WORTH?
HOME IMPROVEMENT PROFESSIONALS
more on msn real estate