Housing is boosting the economy
Research suggests that home values have more effect on the economy than the stock market does -- and the economy is liking the recovery it sees so far.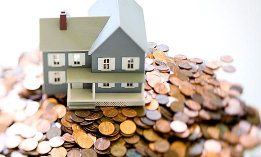 The housing bust played a major rule in plunging the United States into recession. Now, analysts say the housing recovery is providing a major boost to the economy.
Home values have a greater effect on consumer spending than do stock values, economists Karl Case and Robert Shiller found in their latest analysis of housing data from 1975 to 2012.
"We find at best weak evidence of a link between stock-market wealth and consumption," the economists wrote in a paper released in December. "In contrast, we do find strong evidence that variations in housing-market wealth have important effects upon consumption."
The Case-Shiller Home Price Index, developed by the two economists, shows an increase in home values of 5.5% for the year ending in November 2012, the latest data available. The rate of foreclosure is slowing, and construction of new homes is rising.
Those increases in housing values affect not only homeowners but the businesses related to real estate – and the places where homeowners spend their money.
"It's not just the guys that are putting the roof on the house," James Bullard, president of the Federal Reserve Bank of St. Louis, told Bloomberg. "It's the transportation associated with it, it's the Realtor business, the lending business, all kinds of other businesses."
He added: "The psychology has shifted. Good things are happening."
Case told Bloomberg that based on their research, the increase in home prices in the past year – and the expectation of more increases this year – will add $80 billion in consumer spending to the economy in 2013.
And that boosts the economy as a whole. Bloomberg wrote:
Climbing home prices are lifting household wealth and boosting the purchasing power of consumers. Declining mortgage delinquencies and foreclosures are buttressing bank balance sheets, giving them greater leeway to lend. And rising property-tax revenue is fortifying the finances of state and local governments, alleviating pressure on them to cut budgets.
But Shiller, the author of "Irrational Exuberance," which predicted the real-estate bust, offered a word of caution in a recent article in The New York Times, in which he concluded:
The bottom line for potential homebuyers or sellers is probably this: Don't do anything dramatic or difficult. There is too much uncertainty to justify any aggressive speculative moves right now. If you have personal reasons for getting into or out of the housing market, go ahead. Otherwise, don't stay up worrying about home prices any more than you do about stock prices.
I can't offer any clearer picture, and I don't see a solid basis for anyone else to do so, either. 
FIND YOUR DREAM HOME OR APARTMENT
msn real estate is social
WHAT'S YOUR HOME WORTH?
HOME IMPROVEMENT PROFESSIONALS
more on msn real estate