Builder confidence, existing-home sales rise
Sales were up 10.9% from last October. Shrinking inventory is providing opportunity for builders of new homes.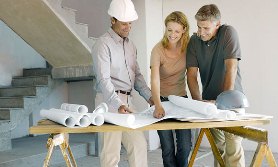 Builders are continuing to feel more optimistic about the prospects for new-home sales, showing a five-point increase in confidence this month.
In a second piece of housing news, sales of existing homes in October were up 10.9% from October 2011, and the national median price for an existing home was up 11.1% year over year.
The boost in builder confidence, the seventh straight increase in the measure known as the National Association of Home Builders/Wells Fargo Housing Market Index, brings builder confidence to the highest level since May 2006.
"Builders are reporting increasing demand for new homes as inventories of foreclosed and distressed properties begin to shrink in markets across the country," Barry Rutenberg, the chairman of the NAHB and a builder in Gainesville, Fla., said in a news release. "In view of the tightening supply and other improving conditions, many potential buyers who were on the fence are now motivated to move forward with a purchase in order to take advantage of today's favorable prices and interest rates."  
While the index of builder confidence is still below 50, the level at which half the builders are optimistic and half are pessimistic about sales prospects for the next six month, it has been steadily increasing in the past year.
One reason prospects for sales of new homes are improving is the shrinking inventory of existing homes for sale. At the end of October, 2.14 million existing homes were for sale, the lowest number since February 2006 and only a 5.4-month supply at the current sales rate. The number of homes for sale has fallen 21.9% in the past year.
While demand for new homes is rising, builders are still facing a number of challenges making their product available.
"At this point, difficult appraisals and tight lending conditions for builders and buyers remain limiting factors for the burgeoning housing recovery," NAHB chief economist David Crowe said in a news release, "along with shortages of buildable lots that have begun popping up in certain markets." 
FIND YOUR DREAM HOME OR APARTMENT
msn real estate is social
WHAT'S YOUR HOME WORTH?
HOME IMPROVEMENT PROFESSIONALS
more on msn real estate