Housing market improving in all 50 states
About 70% of U.S. metro areas have seen their home values, unemployment rate and building permit pace improve in the past six months.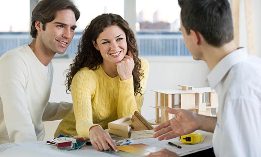 Another piece of evidence that the housing-market recovery is spreading: All 50 states now have cities on the National Association of Home Builders/First American Improving Markets Index.
"The fact that all 50 states now have at least one metro on the improving list shows that the housing recovery has substantial momentum and continues to expand from one market to the next," NAHB Chairman Rick Judson, a homebuilder from Charlotte, N.C., said in a news release. "Of course, there is still much room for improvement in metros that have not yet been listed, as well as those that have."
Post continues below
NAHB rolled out this index – which measures home values, employment growth and building permits – in September 2011, and only 12 of the 361 metro areas evaluated made the list. The picture has been improving steadily, and the list grew from 242 in 48 states in January to 259 in all 50 states in February.
The last two states to join were New Mexico (Albuquerque) and Kansas (Lawrence and Topeka). A notable addition to the improving-markets list was New York City. Also among the 20 new metros this month were Fort Wayne, Ind., Myrtle Beach, S.C., and Racine, Wis.
Falling off the list were Champaign, Ill., Lebanon, Pa., and Amarillo, Texas.
To be classified as improving, a city has to have shown improvement in building permits, employment and home prices for at least six months.
Analysts suggest that 2013 will not see as much home-value appreciation as we saw in 2012. Plus, the recovery continues to be uneven city to city. Still, the builder group expressed optimism.
"Just over 70% of the 361 metros covered by the IMI are listed as improving this month," NAHB chief economist David Crowe said in a news release, noting the change since the index started in September 2011 with just 12 markets listed. "Today, the story is about how widespread the recovery has become as conditions steadily improve in markets nationwide."
Well... to the above commentators...(in my neck of the woods) We have NO
inventory...multiple​
offers on property that IS left...it's a crazy market. Days on Market is virtually cut in half from this time last year....and prices are up. So...does that answer your question re: "compared to what"?
Seadog the vast jobs have no medical coverage becase the republcans have phased out the majority of UNION JOB'S and walmart isn't going to implement any type of benifits anytime soon. Also the rethugs have outsourced all the good paying maufacturing job's, hence the RUSTBELT. Just give the economy a little more time and the 2014 midterm elections and the American Middleclass will  rid us of the party of NO! Once and for all, billionares pack your greedy bags, I hear China's housing market is just waiting on your and your offshore money! 

If things are improving, why do employers still pass up opportunities to hire 55+ years old experienced workers?  Also, why are the vast majority of jobs without any kind of medical benefits?  It's not fair that experienced workers live in fear of being phased out or have such a difficult time finding employment that's commiserate with their talents, especially life skills.

Completely Fed Up


It may be more of a boomer explosion moving to warmer climates than a recovering economy.
RE; 57% of metro areas saw more foreclosures in 2012.  The current president has done nothing but inhibit business growth. Well excuse me, he has really helped the gun manufacturing business, I stand corrected.
Are you sure you want to delete this comment?
FIND YOUR DREAM HOME OR APARTMENT
msn real estate is social
WHAT'S YOUR HOME WORTH?
HOME IMPROVEMENT PROFESSIONALS
more on msn real estate