Foreclosures fall 21% in November
The 'robo-signing' crisis put the freeze on foreclosures, but bank repossessions still managed to surpass last year's record a month early.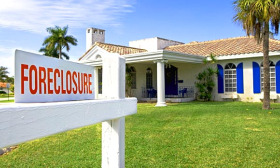 The foreclosure freeze that started in early October appeared to have little effect on foreclosure activity that month, but by November the freeze was on.
According to RealtyTrac, foreclosure activity in November fell 21% from October and was down 14% from November 2009, the two biggest drops that RealtyTrac has recorded since it started publishing the data in January 2005.
"While part of the decrease can be attributed to a seasonal drop of 7 to 10 percent that typically occurs in November," said RealtyTrac Chief Executive James Saccacio, "fallout from the foreclosure 'robo-signing' controversy forced lenders and servicers to hit the pause button on many foreclosures while they scrambled to revamp their internal procedures and revise or resubmit questionable paperwork."
For the first time since April 2009, foreclosure activity in November fell to below 300,000, with default notices, scheduled auctions and bank repossessions reported on 262,339 households.
Default notices declined for the 10th straight month to 78,955, a decrease of 21% from October and 31% from November 2009. The report notes that default notices were scarcer in states that practice judicial foreclosures — where the foreclosure freeze first hit — with a month-over-month decline of 31%, while the other states saw only a 9% decline.
Meanwhile, foreclosure auctions were scheduled for the first time in November on 115,956 properties, down 16% from October but unchanged from November 2009. Similarly, states with judicial foreclosures saw a bigger drop, with foreclosure auctions down 34% from October, while auction declined only 7% in nonjudicial states. 
The biggest month-over-month decline was in bank repossessions, which hit their lowest level since 2009 as lenders foreclosed on 67,428 homes in November, a decrease of 28% from October and 12% from November 2009. But even with the decreases, the annual total for bank repossessions has now surpassed 980,000, putting it above the record year-end total for 2009.
Across the nation, 37 states and the District of Columbia saw declines in bank repossessions, and some of the states that traditionally post the highest rates of foreclosures were among those with big declines.
Nevada still had the highest rate of foreclosures, for the 47th straight month, despite a 20% month-over-month decrease in foreclosure activity that put its rate at one in 99. Utah, formerly the state with the sixth-highest foreclosure rate, jumped to the second spot in November as foreclosure activity there increased 17%, with one in 221 homes receiving a foreclosure filing.
Meanwhile, month-over-month activity took a nose dive in the three remaining states in the top five, with a decline of nearly 14% in California, to a rate of one in 233; a 37% drop in Arizona to one in 262; and a 42% decline in Florida to one in 267.
Although this is good news for homeowners facing foreclosure, who get to spend a little more time in their home, especially around the holidays, it seems unlikely these foreclosures are simply going to disappear. Brace yourself for a surge once the document-signing crisis is resolved.
FIND YOUR DREAM HOME OR APARTMENT
msn real estate is social
WHAT'S YOUR HOME WORTH?
HOME IMPROVEMENT PROFESSIONALS
more on msn real estate