Real estate that's gaining value: Parking spaces
In crowded urban areas, prices for parking spots can exceed $100,000. They've risen at the same time that prices for condos have stagnated or fallen.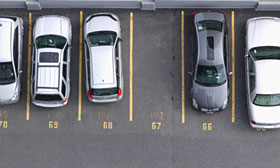 Perhaps you're wondering what sort of real estate you could have invested in and actually seen significant appreciation in recent years.
How about a parking space? In dense urban areas, where parking is at a premium, the value of parking spaces is rising.
In Philadelphia, real-estate agent and concert pianist Diane Sarkisian bought a $1.05 million condo and two parking spaces for $50,000 each in 2007. The value of her condo hasn't increased, but the parking spaces are now worth $75,000 each, The Wall Street Journal reports.
"My apartment is probably not quite worth what it was," Sarkisian told the newspaper. "I think it's going to retain its value pretty well, but not as well as my parking spot. I'm a parking profiteer."
In Boston, the parking space that Helen and Bob Alkon bought for $100,000 when they bought their $1.3 million condo two years ago is now worth $125,000. Their condo hasn't shown the same appreciation.
Parking is at a premium in most major cities, and even a million-dollar condo may come with only one or two spaces. An annual survey of parking rates in North America found that parking costs $533 a month in downtown Manhattan, $438 a month in Boston, $375 a month in San Francisco and $304 a month in Philadelphia.
Post continues below
That's more than many people spend on a car payment. Paying $125,000 to buy a parking space sounds ludicrous to those who live in communities where $125,000 will buy a nice house.
But, says the WSJ, the demand is there:
In some downtowns across the country, a scarcity of parking has driven demand into the stratosphere — even in places where home prices are declining. In some buildings, parking costs are nearly on par, on a per-square-foot basis, with the apartments themselves.

Parking comes at a premium in places where crowded conditions and urban revitalization efforts have fueled demand. Residential buildings typically allocate one or fewer parking spots per unit.
Prices for parking spaces have skyrocketed in Toronto in recent years, and the city's first $100,000 parking space, at the Four Seasons luxury condo, made news this summer.
"Five years ago, $25,000 for parking downtown was likely considered the upper end of the range," Mimi Ng, vice president of the company that developed the Four Seasons, told The Star newspaper. "Now we've gone way beyond that."
Even some buyers of luxury properties are taken aback by the cost. Marcelo Lopez, who got one parking space with his 1,865-foot-condo at the Four Seasons, isn't sure a second space is worth the cost, even though he and his wife own a Porsche 911 and a Mercedes SUV. (Larger units come with two spaces.)
"I think it's a little ridiculous, actually," he told The Star. "After depreciation, the cars aren't even worth the parking spot. I could rent a Ferrari on weekends in the summer and still come out on top."
Here's the question: At what point would you live without a car rather than buy a six-figure parking spot?

The thought of paying for parking is absurd !
My residence hometown REMOVED the parking meters about 10 yrs. ago, as they were costing more to maintain than they were bringing in total, in revenue.
And the town I work in had them for only a very short time, as merchants complained that gross receipts were down & folks were shopping more at the local malls instead of the downtown; Most gave "parking" as the reason.

I wonder if the privatization of some city parking has anything to do with this.  I know Chicago sold its city parking/meters to a private company for about 1.5 Billion (to collect parking meter revenues for 75 years).  Of course, when a private company has a monopoly, they will raise the prices, which they did in Chicago.  Maybe this makes the personally-held parking spaces more valuable?
On another note, I wonder if you have to pay property taxes on a parking spot.  That would make it even more expensive.
Cool  another  gov mint subsidity, Parking  space(s) owned just up the price of real estate, collect taxes.... then foreclose. so k tho cause it looks like our  economy  will be permenetly parked in ression ( because those in America refuse to call it  a depression, paints  a poor picture for washington types

My brother lives in Australia. He and his wife own a condo in a high-rise right on the river in Brisbane. They were assigned 2 parking spaces in their building. They only have one vehicle, as he walks to work and his wife works from home. They are able to rent one of their parking spaces for $600 (Australian Dollars) per month. Crazy. But, happy for them.
Are you sure you want to delete this comment?
FIND YOUR DREAM HOME OR APARTMENT
msn real estate is social
WHAT'S YOUR HOME WORTH?
HOME IMPROVEMENT PROFESSIONALS
more on msn real estate