Supreme Court: It's a house, not a boat
A Florida resident whose floating home was destroyed by the city took his case to the nation's top court. The case had ramifications for casinos and other floating structures.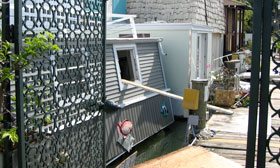 The Supreme Court has spoken: A structure that does not ply the waters is not a boat. It is a house.
This is good news for Florida resident Fane Lozman, who took his dispute with the city of Riviera Beach, Fla., all the way to the country's highest court. He won't get his floating home back, because the city destroyed it in 2009, but he should get the $25,000 bond the city put up in the case.
The case drew national attention because it had the potential of affecting floating casinos, hotels and other structures, such as the floating homes of Seattle. By further defining what constitutes a vessel, the case clarified and narrowed maritime law, which governs vessels but not floating homes.
Post continues below
"We believe that a reasonable observer, looking to the home's physical characteristics and activities, would not consider it to be designed to any practical degree for carrying people or things on water," Justice Stephen Breyer wrote for the majority. "And we consequently conclude that the floating home is not a vessel."
He added: "Not every floating structure is a 'vessel.' To state the obvious, a wooden washtub, a plastic dishpan, a swimming platform on pontoons, a large fishing net, a door taken off its hinges, or Pinocchio (when inside the whale) are not 'vessels.'"
The case grew out of a dispute between Lozman and the city of Riviera Beach. Lozman objected to the city's plans to evict all the floating homes and vessels at the marina and to turn the city property over to a developer to build a $2.4 million project. During a multiyear battle, the city seized Lozman's home, citing U.S. maritime law, and destroyed it.
The case will not directly affect the floating homes of Seattle because the court's ruling aligns with state and local laws in Washington state and also in California. "These states, we are told, treat structures that meet their 'floating home' definitions like ordinary land-based homes rather than like vessels," Breyer said. "Consistency of interpretation of related state and federal laws is a virtue."
FIND YOUR DREAM HOME OR APARTMENT
msn real estate is social
WHAT'S YOUR HOME WORTH?
HOME IMPROVEMENT PROFESSIONALS