Is the joy of less stuff spreading?
New York Times essay about downsizing from a 3,600-square-foot house to a 420-square-foot studio is being widely emailed. But are people really living smaller?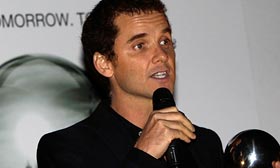 The most emailed story from The New York Times recently was not about world affairs or the latest pop-culture darling. It's an essay titled "Living With Less. Much Less," in which TreeHugger and LifeEdited founder Graham Hill talks about his journey from a "giant house crammed with stuff" to a 420-square-foot studio apartment.
The essay struck a chord with many, ranging from downsizing empty-nesters to young people who are willing to live in smaller spaces if it means being in a desirable urban location. The recession has also brought involuntary downsizing for some.
Post continues below
For Hill, who detailed his journey from a 3,600-square-foot home in Seattle to a 1,900-square-foot-lo​ft in Manhattan's SoHo neighborhood to his current cutting-edge tiny NYC studio, living with less was a choice, and one that he celebrates.
"Somehow this stuff ended up running my life, or a lot of it; the things I consumed ended up consuming me," Hill wrote.
He acknowledges that his story is not typical. Most of us don't get a windfall from an Internet company, hire a personal shopper to furnish our homes or head off for months bopping around the world following true love and running companies out of a solar backpack.
But Hill is not alone in embracing smaller spaces and fewer things. The latest issue of Harvard Magazine profiles two couples who downsized and decluttered and are happier for it.
"It feels liberating to let go of all the material things that surrounded me," says Ronnie Mae Weiss, a Harvard administrator who moved with husband, Richard Sobol, into a townhouse half the size of their previous home. "I have more time and I feel freer to really focus on the more emotionally and spiritually satisfying parts of life."
Whether living in smaller spaces is really a significant trend is still to be determined. For every story of joy in smaller spaces, there is a contrasting story about families who want to build bigger.
The median size of a new single-family house built in the United States rose from 1,525 square feet in 1973 to 2,277 in 2007. It fell for a few years, to 2,135 in 2009, before rising to 2,169 in 2010, the last year for which figures are available. But those data don't take into account people who moved from a large existing home to a smaller one or from a house to a condo.
Some argue that it's easier for a rich man to live with less stuff, because if he needs something he previously discarded, he can just go out and buy another one. A poorer person is less likely to get rid of things for fear he might need them again and not be able to afford them.
Most people also can't afford the $365,000 it cost Hill to renovate his studio and build the multiuse furniture.
As Bob from Teaneck, N.J.,  who downsized after making  a career change, commented at The Times:
.. I sometimes chafe at the premise of articles like this one. For the 99%, "living small" is not so much a virtuous low-carbon lifestyle, as it a necessary survival skill. I cannot afford a customized SoHo apartment with a fold-down bed, not even at 400 square feet. My furniture comes from Ikea, and my basement regularly floods. …
What do you think? Are more Americans embracing minimalism, or are we just hearing more about the small number who do?
FIND YOUR DREAM HOME OR APARTMENT
msn real estate is social
WHAT'S YOUR HOME WORTH?
HOME IMPROVEMENT PROFESSIONALS