Are investors ruining the housing market?
Investors are buying a bigger percentage of homes than they did during the boom. Is this boosting the market or just distorting it?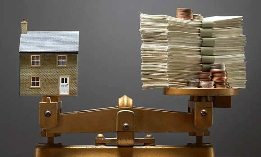 We've heard a lot lately about how investors are playing a major role in the housing market. Those include both individuals who buy a few rental properties and private equity funds that buy houses by the hundreds.
As the number of homes for sale has shrunk, first-time homebuyers and others who want to buy a home with a mortgage have been frustrated about being beaten out time and time again by investors paying all cash.
How many homes are investors buying? CBS MoneyWatch's Ilyce Glink reports that in many cities, investor activity is the highest it has been in a decade.
Post continues below
MoneyWatch asked DataQuick to look at purchases in 28 cities around the United States. The conclusion? "In all but five markets, investor activity is up over the 10-year average."
These are some of the numbers:
Los Angeles: 25% of purchases are by absentee buyers, compared with 11.5% at the peak of the boom in 2005.

Miami: 42% of purchases in 2012 were by absentee buyers, compared with 33% over the past decade.

Las Vegas: 51% of purchases are by absentee buyers, up from a 10-year average of 41%.

Cincinnati: 35% of purchases by absentee buyers, compared with 22% over the past decade.
Statistics from the National Association of Realtors show that 19% of home sales in January were to investors, compared with 23% in January 2012. All-cash sales were responsible for 28% of transactions, compared with 31% a year earlier.
What does the investor role mean for the housing market? Glink writes:
Some housing activists are crying foul over the investor-driven recovery in housing. Under this view, investors are taking away homes from people who otherwise would be able to buy an affordable property. Investment firms also act as a ready buyer for banks that opt for foreclosure and short sales over loan modifications that would keep homeowners in their homes.
The data raise an interesting question. Are investors leading the recovery and buying homes that families can't buy, either because they can't get mortgages, have too much debt or don't make enough money? Or are investors keeping families out of the market by buying up all the good properties for cash, making it nearly impossible for regular buyers to compete?
FIND YOUR DREAM HOME OR APARTMENT
msn real estate is social
WHAT'S YOUR HOME WORTH?
HOME IMPROVEMENT PROFESSIONALS