Half of homeowners have at least 50% equity
Homeowners in New York and Hawaii are in the best position, while those in Nevada, Arizona and Florida are most likely to be underwater.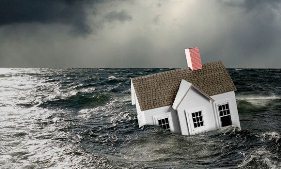 We write often about people who owe more on their home mortgage than their home is worth, but — at 22.5% of Americans with mortgages — those people are the minority.
One-third of homeowners don't have mortgages at all but own their properties free and clear.
Of those who have mortgages, 24.6% have more than 50% equity and 48.5% have at least 25% equity, even after the precipitous drops in home values of the past few years.
Americans had $6.2 trillion in home equity at the end of June, syndicated columnist Kenneth Harney reports, down from $13.2 trillion in 2005. He asked CoreLogic to put together some numbers for his column.
The states where homeowners have the most equity are New York, where 48.8% of homeowners have at least 50% equity, and Hawaii, where 43.7% report that distinction.
Other states where homeowners are doing well are Connecticut, Massachusetts and Pennsylvania, along with the District of Columbia.
And where do people have the least equity? You get three guesses, and the first two don't count.
Post continues below
In Nevada, only 7.5% of homeowners have at least 50% equity in their homes and 30% of homeowners are massively underwater, with mortgages 50% or more above their property value. Almost 58% of Nevada homeowners are underwater.
Arizona and Florida also have high numbers of homeowners with negative equity — 49% and 45%, respectively — but they have more owners with a significant amount of positive equity, Harney reports. In Florida, one of every six homeowners has 50% or higher equity, and in Arizona, one of every eight does.
What do the states where homeowners with more equity have in common? This is what Sam Khater, senior economist for CoreLogic, said to Harney. States where homeowners have more equity:
Are affluent or have major pockets of affluence.

Have lower levels of mobility and in-migration.

Did not experience a boom in suburban construction from 2003 to 2007.

Did not have a lot of "zany" types of home financing.
California, interestingly, fits both scenarios. In the coastal cities, many homeowners have more than 50% equity. But in the interior, homeowners are deeply underwater.
What conclusions do you draw from these numbers? Are there things we could guard against in the future?
FIND YOUR DREAM HOME OR APARTMENT
msn real estate is social
WHAT'S YOUR HOME WORTH?
HOME IMPROVEMENT PROFESSIONALS