Vail gains favor with Mexican buyers
Seeking havens for money and family, wealthy Mexicans are buying multimillion-dollar homes and businesses in Colorado ski country.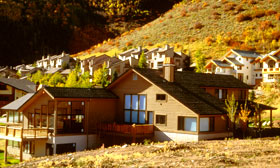 Foreign investors have long been an important part of the U.S. real-estate market, especially in cities such as Miami, Dallas and Los Angeles.
But as they look for safe investments, international investors are also looking elsewhere for deals. Wealthy Mexicans, for example, are picking up ski properties in Vail, Colo., and environs, The Wall Street Journal reports.
Two of the past three sales at a new Vail Village development called the Solaris were to Mexican families, who paid about $6 million for their new homes. Latin Americans, the majority of them Mexican, have bought 60% of the units there in the $12 million-plus price range.
The Mexican investors are attracted to the safety that the area represents to themselves and their families. While some are buying vacation and investment homes, others are moving to Colorado full-time.
"Safety is a huge issue for many of these families," Julie Bergsten, vice president of Slifer Smith & Frampton, told The WSJ. Seeking more Mexican buyers, the Colorado brokerage has created a Latin American division, traveling to Mexico and publishing a buying guide in Spanish for the first time.
Most of the cities that draw the largest percentage of international buyers are in Florida, but New York, Honolulu, Phoenix and Las Vegas are all in the top 10, according to a report by Inman News. A study released last year by the National Association of Realtors founds that 58% of international sales were in just four states: Florida, California, Texas and Arizona.
According to that study, Mexico was one of the top countries of origin of international buyers. Canadians buy the most U.S. real estate (23% of international transactions), followed by China (9%), then Mexico, the United Kingdom and India (7% each). Those five countries are responsible for 53% of U.S. sales to international buyers.
As has been traditional, both with immigration patterns and real-estate investment, Mexicans have followed relatives, friends and acquaintances to Vail.
Mexican entrepreneur Alejandro Marti moved his family to Vail and bought a bankrupt hotel that he turned into an upscale hotel-condo development that is a hub for Mexican culture and art. Since the Sebastian opened in 2011, about 40% of the condo units have been purchased by buyers from Mexico.
Mexico City lawyer Alex Martinez bought a $390,000 fractional ownership at the development after he heard that Marti was the developer. "He's a very well-known businessman, and whatever he does he puts his heart into it," Martinez told The WSJ.
FIND YOUR DREAM HOME OR APARTMENT
msn real estate is social
WHAT'S YOUR HOME WORTH?
HOME IMPROVEMENT PROFESSIONALS
more on msn real estate