Is the drama of HGTV's 'House Hunters' fake?
A participant's report that the houses they toured were neighbors' homes that weren't even for sale raises questions. Surely, you didn't think anyone could buy a house that easily, right?
We'd be remiss if we didn't bring you news on the latest scandal rocking the housing world: HGTV's show "House Hunters" reportedly is faked.
You're not surprised? Neither are we, though that's partly because we have read a number of posts by Julia Sweeten at "Hooked on Houses" about how the show is done, including this 2010 post that pointed out that the homeowners really have already chosen a home before they start filming.
In case you've never seen the show, here's a quick recap: Prospective homebuyers tour three homes they supposedly are considering. At the end of the show, they choose one. This show always has a happy ending.
Post continues below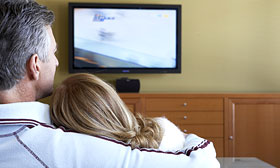 But apparently, some of the "drama" of this reality show is staged. (We are shocked, shocked, to hear that reality TV is not real. But really, how seriously can you take a would-be buyer's worry that a house priced at $176,000 is over his $175,000 budget?)
The scandal came to light after a post last week in which Sweeten told the story of a Texas couple with two children who appeared on the show in 2006.
Bobi Jensen of San Antonio, who has her own Western Warmth blog, said to Sweeten:
The producers said they found our (true) story – that we were getting a bigger house and turning our other one into a rental – boring and overdone.

So instead they just wanted to emphasize how our home was too small and we needed a bigger one desperately. It wasn't true, but it was a smaller house than the one we bought so I went with it.
Jensen told Hooked on Houses that "House Hunters" didn't accept the couple for the show until after they had closed on their new home. And the couple themselves had to find the two other houses to tour. During the hot real-estate market of 2006, they couldn't find real sellers who wanted their homes on the show, so they toured two friends' homes and pretended to consider homes they pretended were for sale.
Jensen told USA Today that HGTV makes it clear during the selection process that only couples who have already closed on a home will be considered "because they don't want to waste their time on anyone who's still in the decision-making process." But the buyers can't have moved into the home yet because they will need to tour it and pretend to be debating whether to buy it. The participants get $500 for four days of filming.
HGTV did not comment specifically on Jensen's story or on how often the homes toured by the buyers not only never were considered but also may not even have been for sale. But HGTV programming executive Brian Balthazar said in a statement to USA Today:
We're making a television show, so we manage certain production and time constraints, while honoring the homebuying process. To maximize production time, we seek out families who are pretty far along in the process. Often everything moves much more quickly than we can anticipate, so we go back and revisit some of the homes that the family has already seen and we capture their authentic reactions.
Since the show aired, Jensen and her husband have added two more children to their family. All six of them lived in a considerably smaller townhouse in Omaha, Neb., while her husband, who was the real-estate agent in the TV episode, went to law school.
She still likes HGTV and is bemused by all the furor her story has caused. She writes:
I think their practices are the only efficient way to handle a show such as this. Could they really follow a couple around who looks at a few houses every weekend and six months later decides on one? What if they changed their mind and decided to rent a few more years? … NO ONE looks at three houses and then picks one and "gets the call" that it is theirs, without at least a little more drama. I assume people know this. How could HGTV afford to keep flying the producer out, etc? I think people just haven't realized this is purely entertainment and have a lot of expectations of "reality" for reality TV that would be nearly impossible or unaffordable to pull off.
What do you think? Are you surprised? Outraged? Or did you suspect that this was how the show was organized all along?
FIND YOUR DREAM HOME OR APARTMENT
msn real estate is social
WHAT'S YOUR HOME WORTH?
HOME IMPROVEMENT PROFESSIONALS
more on msn real estate