Pets that help sell homes
Conventional staging wisdom says pets should stay out of sight when your house is on the market. But these Manhattan cats and dogs helped seal the deal.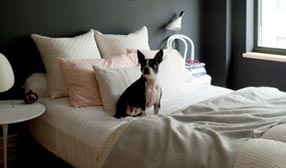 We've all heard about the basics of staging a home for sale: reduce the clutter, get rid of the wallpaper, showcase a few well-displayed accessories.
Never once has Sabrina Soto, the HGTV staging guru, suggested leaving a friendly dog or cat around to warm up the home. In fact, she advises hiding any evidence that a pet has ever been there.
But according to The New York Times, some Manhattan real-estate agents have found family pets an asset, not a liability, in selling property.
Jon Lightman and Judy Batalion were charmed by the resident cat they met at a Chelsea loft they eventually bought.
"We were so flattered by the cat's attention," Lightman told The Times. "He was so warm and social. He'd climb on anyone, even our real-estate broker and us. He made the apartment feel lived in, homey."
My tabby greets all guests at the door, but he occasionally bites one, so he may not be a good cat for staging, even if his warm neutral color does match the gray sofa.
The real-estate agents interviewed by The Times' Constance Rosenblum told stories of several friendly animals they thought helped close the deal.
Post continues below video
Wraggles, a Cavalier King Charles spaniel, proved such as natural at staging that he climbed without instruction onto a chaise in the living room, framing himself as part of the view. The dog was such a hit that his presence was requested at all future showings. To avoid those repellent doggie smells, Wraggles visited a dog spa beforehand.
"The person who bought the apartment told me that with the dog on the chaise lounge and the fire in the fireplace, it felt like a real home," owner Deborah Pilla told Rosenblum.
The agents did tell several stories in which the family pets did not help close the sale, including one in which seven barking Yorkies followed prospective buyers around as they toured the apartment. This is not a scenario that makes you want to hang around and take a second look at the granite countertops.
Real-estate broker J. Philip Faranda of New York, who owns a German shepherd, expressed skepticism that these few anecdotes are a signal to ignore the traditional home-staging advice to keep your pets where they can't be seen, heard or smelled. In a comment responding to the article, he wrote:
… I find the notion that pets do anything but hinder the sale of any property to be laughable. Just because a few anecdotal examples exist where people clicked with the pet doesn't detract from the fact that they are a distraction to the eyes, ears and nose.
What do you think? Would your pet help you sell the house or would he impel buyers to run in the opposite direction?
About Teresa Mears
Teresa Mears is a veteran journalist who has been interested in houses since her father took her to tax auctions to carry the cash at age 10. A former editor of The Miami Herald's Home & Design section, she lives in South Florida where, in addition to writing about real estate, she publishes Miami on the Cheap to help her neighbors adjust to the loss of 60% of their property value.
msn real estate is social
FIND YOUR DREAM HOME OR APARTMENT
WHAT'S YOUR HOME WORTH?
HOME IMPROVEMENT PROFESSIONALS
from our partners