A street by any other name — raises home value?
Homes with addresses on 'streets' are listed for 36% less than those on 'boulevards.' Location may explain the difference.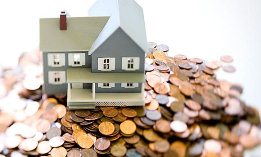 Could the real reason my home has lost value be where it is?
No, we don't mean Miami, where property values are essentially half of what they were during the peak.
But perhaps it's because it is on a "street," not a way, terrace, avenue or boulevard.
Post continues below
The folks over at Trulia decided to run their real-estate listings through a database and evaluate whether the suffix of the street address made any difference in a property's value.
Their conclusion was that it did — or at least that, looking at the data globally, the difference between the median listing price per square foot for properties with "street" in the suffix was 36% less than that of a "boulevard," the most valuable suffix.
The most common suffix is not street, with 19% of listings, but drive, with 22%.
While we speculated that boulevard might have been more popular in pricey subdivisions, Jed Kolko, Trulia's chief economist, noted that homes on boulevards are more likely to be apartments or condos, often in denser urban areas with higher prices per square foot. By the way, only 2% of listings are on boulevards.
In case you're wondering how your suffix performs, here are the per-square-foot listing prices of homes in Trulia's database, by suffix:
Boulevard: $117

Place: $110

Road: $109

Way: $107

Terrace: $102

Court: $101

Lane: $101

Circle: $100

Trail: $97

Avenue: $96

Drive: $96

Street: $86
About Teresa Mears
Teresa Mears is a veteran journalist who has been interested in houses since her father took her to tax auctions to carry the cash at age 10. A former editor of The Miami Herald's Home & Design section, she lives in South Florida where, in addition to writing about real estate, she publishes Miami on the Cheap to help her neighbors adjust to the loss of 60% of their property value.
msn real estate is social
FIND YOUR DREAM HOME OR APARTMENT
WHAT'S YOUR HOME WORTH?
HOME IMPROVEMENT PROFESSIONALS
from our partners