Listing of the Week: Sports paradise from MTV's 'Teen Cribs'
Mansion on the Potomac listed as one of the Washington area's most expensive homes is going to foreclosure auction. Tax value exceeds $20 million.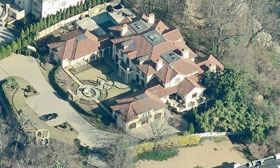 A home that was listed as one of the Washington, D.C., area's most expensive homes is going up for sale in a foreclosure auction.
The 20,000-square-foot-p​lus Mediterranean-style mansion in McLean, Va., appeared on an episode of MTV's "Teen Cribs" in 2010. You can see the video and get a good look at the house here.
The home was built by Rodney Hunt, an entrepreneur who sold his company, RS Information Systems, for more than $800 million in 2008. We couldn't find any information on how the house came to be in foreclosure.
Post continues below
According to property records, the Hunts bought the property for $5.325 million in 2003. The municipality values the home at $20.337 million for tax purposes.
The home is on 2.66 acres along the Potomac River, with "massive windows that expose breathtaking views and plentiful natural light," the listing says.
Hunt's son, Bradley, took MTV on a house tour that included a formal living room where President Barack Obama was once feted at a fund-raiser, a library, den, the teen's bedroom suite and a balcony overlooking the Potomac.
Bradley Hunt, an aspiring rapper and college basketball player, also showed off the features that got the house on "Teen Cribs": a sports café with a wall of trophy cases and a bar, a movie theater, a basketball arena and a spa/workout room with a resistance pool and a Jacuzzi. Also part of the TV tour was a two-lane bowling alley named for the young man's grandparents.
"This big house that people call an estate really has become a home," Rodney Hunt told MTV, also mentioning how happy he was to see his children and their friends hanging out at the house. "I think we've achieved what we intended to do."
The property also has a detached guest house and staff quarters, separate men's and women's gyms, steam showers, sauna, billiards room,10 fireplaces, an elevator, outdoor pool, outdoor spa, outdoor kitchen and parking for 18 cars, including a 15-car underground garage.
The auction is scheduled for Sept. 27.
FIND YOUR DREAM HOME OR APARTMENT
msn real estate is social
WHAT'S YOUR HOME WORTH?
HOME IMPROVEMENT PROFESSIONALS
more on msn real estate