Tattoos yield higher pay for agents
More than 35 employees at a New York rental real-estate company have gotten tattoos with the company logo in exchange for a commission boost.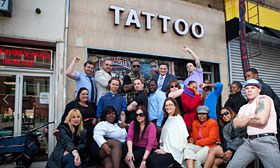 Some employees of a New York City real-estate firm have taken a major step to show loyalty to their employers: They have had the company logo tattooed on their bodies.
In exchange, the agents of Rapid Realty got their commissions raised from 25% to 40%. The location of the tattoo is up to the employee.
The unusual branding tactic came to light when the company submitted it to Inman News' weekly #madREskillz, a Twitter conversation about offbeat marketing tactics.
Post continues below
Rapid Realty tweeted:
36 agents have gotten tattoos of our logo (so far)! Talk about marketing -- they're walking billboards! #madREskillz

pic.twitter.com/XGBp​pbmaBR
The body-art-for-raises movement started when an employee mentioned to company owner Anthony Lolli that he was getting a tattoo with the company logo, at the suggestion of a client who was a tattoo artist. So far, at least 37 agents have gotten the tattoos.
"They wear it like a badge of honor," Lolli told Inman News. "They get a lot of respect from the other agents with the amount of commitment that they have."
Rapid Realty focuses exclusively on rentals, and clients are served by multiple agents, who play different roles.
Representatives of the company that placed second in the Inman Twitter competition were among the skeptical.
"Tattoos are nice and fun on their own, but within the real-estate industry I'm not sure that send the right message or image out to potential clients — kinda like seeing your attorney with a tattoo of his/her firm on their arm," Ann Lee Faranda, co-owner of J. Philip Real Estate, wrote on the Inman competition Facebook page.
Her firm, which she co-owns with her husband, Phil Faranda, came in second in the competition, with a proposal to price by ZIP code. For example, if your house is in the 90210 ZIP code, instead of pricing it at $999,999, you'd price it at $999,210, thereby setting yourself up as an expert in the local market.
FIND YOUR DREAM HOME OR APARTMENT
msn real estate is social
WHAT'S YOUR HOME WORTH?
HOME IMPROVEMENT PROFESSIONALS
more on msn real estate