Rate of negative equity falls to 28.2%
Rising prices are bringing more homeowners above water on their mortgages, but the rate of negative equity remains above 40% in a number of cities.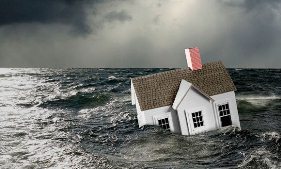 As home values rise, the number of borrowers who owe more than their home is worth is falling. The latest analysis by Zillow finds that 28.2% of U.S. homeowners with a mortgage are underwater, down from 30.9% last quarter.
But many of the areas hardest hit by the real-estate crisis still have a large percentage of underwater borrowers, and many still owe significantly more than their home is worth. That in itself is bringing prices up as homeowners remain trapped in homes they can't sell, meaning fewer homes go on the market.
Post continues below
"The fall in negative equity rates means homeowners have additional options for refinancing or selling their homes," Zillow chief economist Stan Humphries said in a news release. "But while we're moving in the right direction, a substantial number of homes are still locked up in negative equity, unable to enter the existing resale market despite the desires of their owner."
About one-third of homeowners do not have mortgages. Of all homeowners, about 20% are underwater. Among underwater homeowners, 90.3% are current on their payments.
Using Zillow's figures, home values rose 1.3% from the second quarter to the third quarter, the biggest quarterly gain since 2006. But for those who owe substantially more than their home is worth, that wasn't enough to bring them anywhere near break-even.
The average amount of negative equity nationwide is $73,163; the average homeowner with a mortgage is on the hook for 142.5% of the home's value.
In Las Vegas, 63% of homeowners with a mortgage remain underwater, and 21% of borrowers owe twice what their home is worth. In Atlanta, 50.4% of mortgage holders owe more than their home is worth, and 10.4% owe double their home's value. The rate of negative equity also is above 40% among homeowners with mortgages in Miami-Fort Lauderdale, Tampa and Orlando, Fla.; Riverside and Sacramento, Calif.; Phoenix; and Detroit. You can see how your area fared in this interactive map.
Some of those hard-hit cities experienced the greatest decline in negative equity between the second quarter and the third quarter. The largest declines came in Phoenix, at 6.2 percentage points; Las Vegas, 5.5; Denver, 4.9; Sacramento, 4.6; and Orlando, 4.2.
Younger borrowers are most likely to be underwater. Among borrowers under 40, 43.9% are underwater.
FIND YOUR DREAM HOME OR APARTMENT
msn real estate is social
WHAT'S YOUR HOME WORTH?
HOME IMPROVEMENT PROFESSIONALS
more on msn real estate