Study: Wildlife refuges raise property values
Researchers find that urban homes near a national wildlife refuge are worth 3% to 9% more than homes that are farther away.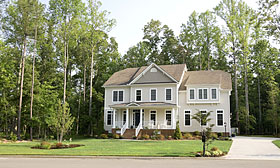 Homes in urban areas near wildlife refuges are worth 3% to 9% more than homes that aren't near refuges, according to a new study.
A study commissioned by the U.S. Fish and Wildlife Service and conducted by researchers at North Carolina State University found that being within half a mile of a wildlife refuge raised property values 4% to 5% in the Northeast, 7% to 9% in the Southeast and 3% to 6% in the California/Nevada region. Other regions were not included in the study.
"National wildlife refuges are public treasures that protect imperiled wildlife and delight visitors," Fish and Wildlife Service Director Dan Ashe said in a news release. "These findings remind us that refuges also boost community health, sometimes in unexpected ways. National wildlife refuges enrich local communities ─ even in a lean economy – and generate revenue."
Post continues below
The study looked specifically at property values in areas within three miles of 93 national wildlife refuges that were no more than two miles from an urban area with a population greater than 50,000. Only those homes within eight miles of the urban center were included.
This was the first study to measure the impact of national wildlife refuges on property values. It comes at a time when some members of Congress would like to sell protected federal lands for developments.
While the study measured only the impact of federal wildlife refuges on property values, other protected land is likely to have a similar favorable impact, the study's lead author said.
"I wouldn't consider a refuge any different from open space a local community might protect," Laura Taylor, director of the university's Center for Environmental and Resource Economics Policy, told Newsday. "As long as it's permanently protected in a natural state, our research would indicate that there's going to be benefits to neighboring homes."
FIND YOUR DREAM HOME OR APARTMENT
msn real estate is social
WHAT'S YOUR HOME WORTH?
HOME IMPROVEMENT PROFESSIONALS
more on msn real estate