Number of homes for sale drops 19% in a year
The decline has been more dramatic in California, where inventory has declined by more than a third in some cities, and prices have risen.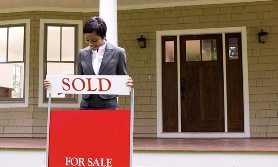 We've all been hearing about the declining inventory of homes for sale. The latest Real Estate Trends report by Realtor.com shows how dramatic the drop has been, particularly in some locations.
Nationwide, the number of homes for sale dropped 19% between June 2011 and June 2012. But the drops were significantly more dramatic in a number of California cities and a few other places. Only two of the 146 markets measured by Realtor.com saw an increase in the inventory of homes for sale. Those were Shreveport, La., where inventory rose 26.59%, and Philadelphia, where it rose 4.31%.
Of the 10 cities that have seen the greatest drop in the number of homes for sale, seven are in California, and two others also are in the West. The previous quarter's report saw significant declines in inventory in hard-hit Florida areas, as well as in Phoenix, the Seattle area and several cities in California.
Post continues below
The median list price of homes for sale stayed steady, at $195,000.
A report by the California Association of Realtors noted that the median sale price in the state was up 8.1% from a year ago, but that rising prices had not increased the number of homes offered for sale.
"Tight supply is putting upward pressure on home prices, but it also is restraining sales demand, especially in lower-price segments," Leslie Appleton-Young, the chief economist for the California Realtor group, said in a news release. "In June, sales below $300,000 declined 4.1% from the previous month, while sales of homes priced higher than $500,000 increased 2.3%."
Another factor keeping inventory down in California is that fewer foreclosed homes are coming to market.
Foreclosed homes made up 24.5% of the used homes sold in June in Southern California, the Los Angeles Times reported, citing information from DataQuick. That was down from a high of 56.7% in February 2009 and the smallest percentage since December 2007. Sale prices in the region are up 5.3% over last June.
Despite rising prices, sellers are not rushing to market. The high level of negative equity in California, Nevada, Arizona and Florida is likely keeping some would-be sellers from putting their home on the market, which usually happens when prices rise.
"We haven't seen that," Julie Reynolds, a vice president at Realtor.com, told Bloomberg. "We continue to see inventory levels drop."
The cities showing the greatest decrease in the number of homes for sale year over year were:
Oakland, Calif., 57.92%

Fresno, Calif., 49.10%

Bakersfield, Calif., 47.47%

Seattle-Bellevue-Eve​rett,

Wash., 42.85%

San Jose, Calif., 41.98%

San Francisco, 39.68%

Phoenix-Mesa, Ariz., 39.5%

Stockton-Lodi, Calif., 38.92%

Riverside-San Bernardino, Calif., 38.08%

Atlanta, 37.92%
FIND YOUR DREAM HOME OR APARTMENT
msn real estate is social
WHAT'S YOUR HOME WORTH?
HOME IMPROVEMENT PROFESSIONALS
more on msn real estate