Record number of Americans living alone
The economy has forced many households to double up, but it hasn't stemmed the trend of more adults living alone — except in Manhattan and California.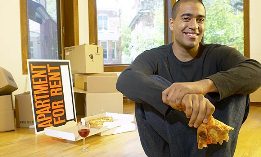 Despite economic struggles that find more Americans living with relatives, the percentage of people living alone has risen to an all-time high.
Almost 27% of U.S. households have just one person, according to an Associated Press analysis of 2010 census data. Young people may be living in their parents' basements because they can't afford apartments, but more of their elders, especially women, are living on their own.
The exceptions to the trend of more people living alone are in some of the most expensive U.S. housing markets: New York City and parts of California.
"I see the rise of living alone as one of the great demographic changes in modern history," New York University sociologist Eric Klinenberg told The AP. "It may be the last great social change that we haven't fully come to terms with." Klinenberg wrote the upcoming book "Going Solo: The Extraordinary Rise and Surprising Appeal of Living Alone."
The greatest increase in people living alone has been in smaller communities, which are perhaps catching up to the big-city trend. The West and the South saw a significant increase in the number of people living alone.
Penny Jacobs of Orlando, Fla., an attorney who divorced her husband in 2003, says she likes having her space to herself. "I like the control, freedom and independence," she told The AP.
At the same time, the percentage of households that have doubled up since the recession has increased, the Census Bureau reports. The bureau defines "doubled up" as a household containing two people over 18, neither of whom is in school or is the romantic partner of the other. The percentage of these households has risen from 17% of all households in 2007 to 18.3% this year.
The number of people ages 25 to 34 living with their parents rose from 4.7 million before the recession to 5.9 million in 2011. That's 14.2% of young adults living with their parents, up from about 12% before the recession.
Post continues below
Here are some more facts The AP reported about living alone in the United States, based on U.S. census data:
Women are more likely than men to live alone. But among those under 45, more men live alone than do women.

More people live alone in North Dakota than in any other state, 31.5% of households. That's partly because of an oil boom that is attracting single men.

California experienced the greatest decline in the number of people living alone. That may reflect both higher rents and a greater number of Hispanics and Asians, who are more likely to live with families as single adults.
The rise of people living alone helped create a demand for housing earlier this decade, just as the doubling up of households and more young people living with their parents have cut the demand for housing. But when the economy improves, many of those people will want their own homes.
"That could represent a strong shadow demand for housing, as well as a potential jump in household formation with a resultant boost in consumption," Phil Izzo said in The Wall Street Journal's "Real Time Economics" blog.
About Teresa Mears
Teresa Mears is a veteran journalist who has been interested in houses since her father took her to tax auctions to carry the cash at age 10. A former editor of The Miami Herald's Home & Design section, she lives in South Florida where, in addition to writing about real estate, she publishes Miami on the Cheap to help her neighbors adjust to the loss of 60% of their property value.
msn real estate is social
FIND YOUR DREAM HOME OR APARTMENT
WHAT'S YOUR HOME WORTH?
HOME IMPROVEMENT PROFESSIONALS
from our partners