Woman goes to jail over messy yard
South Carolina town comes to homeowner's aid after she is locked up for six days for failing to pay a $480 fine. Neighbors argue that she had plenty of time to clean up and didn't.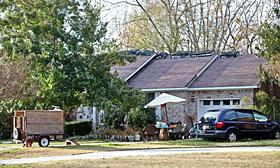 Neighbors have come to the aid of a South Carolina woman who spent six days in jail because of her messy yard.
Linda Ruggles, a 53-year-old photographer in Mount Pleasant, S.C., near Charleston, said she couldn't install the shingles stacked on her roof or keep up her lawn after the recession scuttled her photography business. She sold blood plasma, worked part-time at a supermarket and collected scrap metal in her driveway to pay back taxes and save her ranch home from foreclosure, she told The Post and Courier in Charleston.
In her view, she's being persecuted because she is poor.
Post continues below
"I feel like they want to make an example out of me," she told the newspaper as she sat in jail. "This should be an embarrassment for the town of Mount Pleasant. And it should be an embarrassment for my neighbors who called the code enforcement officer, because no one offered to help me -- no one."
After Ruggles was jailed for failure to pay the $480 fine, residents came to her aid, including a contractor who said he would fix her leaky roof for free and landscapers who offered to clean up her yard.
"It's all about giving back," landscaper Corey Ireland told the newspaper about his decision to help Ruggles, who is going to photograph his upcoming wedding. "She's having a hard time and needs some help. Hopefully, someday, if I ever need help, someone will be there to help me, too."
City officials said they went out of their way to help Ruggles, but she failed to comply with the city ordinances and didn't show up for court dates.
"The town bent over backward for her," code enforcement officer Mark Sargeant told the newspaper. "We did everything we could to accommodate her, but she didn't reciprocate."
Her neighbors complained to code enforcement authorities more than a year ago, asking that Ruggles be required to clean up her property. The loose shingles could become missiles if a hurricane blew through, and her unsightly property was dragging down their property values, they said.
"This is not something that just cropped up," next-door neighbor Marty Vermillion told the newspaper. "This has been going on for years. This person had multiple chances to avoid all of this. ... Offers of help have been rejected and rejected. It's affecting our property values, and that's not right or fair."
FIND YOUR DREAM HOME OR APARTMENT
msn real estate is social
WHAT'S YOUR HOME WORTH?
HOME IMPROVEMENT PROFESSIONALS
more on msn real estate