Real-estate disaster towns now sellers markets
Low inventory has turned the tables in Las Vegas and Phoenix, but you can still negotiate in Chicago and Philadelphia, according to a new Zillow analysis.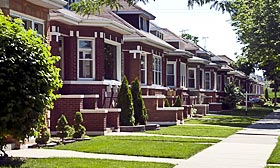 Proving once again that there is more than one way to crunch a set of statistics, Zillow has come up with a new list of the top buyers and sellers markets in the United States.
The list is based on how long listings stay on the market, what percentage undergo price cuts before they sell and how list prices compare with sale prices. Zillow took all those numbers into account in the 50 largest metro areas to create its list.
Using these criteria, a sellers market isn't necessarily one in which prices are rising, but a market where homes are staying on the market for less time and selling for closer to the asking price.
Post continues below
Among the top sellers markets are Las Vegas and Phoenix, two cities where prices plunged and foreclosures spiked during the bust.
"It may seem counterintuitive that some of the best markets for sellers are those that have seen the largest price drops since the housing recession began," Zillow chief economist Stan Humphries wrote at the Zillow blog. "However, this is likely due to investor interest, as many are buying distressed and nondistressed homes in bulk and transforming them into rentals. This investor activity is driving up prices for all homes in these markets."
One factor that may be influencing sales in these formerly disastrous markets is the high level of negative equity, which is keeping people from selling their homes and tightening the supply of homes for sale, Ryan Sloan wrote at the "Zillow Real Estate Research" blog, where you can also see more data and an explanation of the methodology.
Here are the top sellers markets:
San Jose, Calif.
San Francisco
Las Vegas
Sacramento, Calif.
Phoenix
Riverside, Calif.
Washington, D.C.
Los Angeles
Salt Lake City
Austin, Texas
And the top buyers markets, where a little more negotiation may be possible:
Chicago

Milwaukee

Cleveland

New York

Philadelphia

Jacksonville, Fla.

Providence, R.I.

Cincinnati

Hartford, Conn.

Houston

Well I see that the great american con job and rape worked.  Wallstreet had fun and now reaps the rewards.  Stole peoples homes and now the next wave of corruption.  Way to go all you leeches and cockroaches.  Cookie cutter homes, easy qualify, overpriced, interest only loans and bingo.  The rape of the working class.   I predicted it, watched it and did not buy it.  I knew people who did, shook my head, try to tell them.  And here we are.   Are you happy?  You con pathetic vultures.

I am an investor and landlord of 14 homes in the Phoenix market. I started buying in the fall of 2008 when it first started and I have sold numerous homes over the course of the past almost 4 years now and the only thing that is getting crazy, sight unseen buyer activity are the things that are priced below market. It is not a good time for someone like me to buy distressed properties in hopes of making a few bucks as the competition is fierce. If you are just a normal owner occupied buyer  looking for a house at a fair price, one that is well below the over inflated prices of 2005-06, then there are plenty of houses to choose from. I currently have a home on the market that I did buy at the frenzy of the market in the fall of 2005 and I now have it on the market for 20% less than I paid for it (not a short sale, I paid cash, so I am just absorbing the loss). It is priced at market value of $100/SF and I have only had two showings in the past week and no offers. The things that are price at $75/SF and less are what is getting SO much actitvity. There are tons of homes for sale that are priced at the very reasonable amount of $100/SF thru out the Phoenix area.
The TV clip from the local station is worrisome as I am afraid it will scare the first time buyer or move up buyer of owner occupied homes from entering the market and that is what we need to sustain the housing market-not investors looking to make a quick buck.
Are you sure you want to delete this comment?
About Teresa Mears
Teresa Mears is a veteran journalist who has been interested in houses since her father took her to tax auctions to carry the cash at age 10. A former editor of The Miami Herald's Home & Design section, she lives in South Florida where, in addition to writing about real estate, she publishes Miami on the Cheap to help her neighbors adjust to the loss of 60% of their property value.
msn real estate is social
FIND YOUR DREAM HOME OR APARTMENT
WHAT'S YOUR HOME WORTH?
HOME IMPROVEMENT PROFESSIONALS
from our partners