Scammers took $1 billion from homeowners in past year
Federal agencies say they have charged 530 people and closed 200 firms in an effort to crack down on mortgage-relief scams.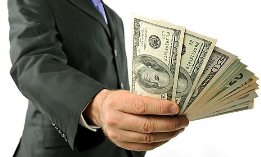 The federal government has filed criminal charges against 530 people and closed down 200 companies in the past year, saying that they defrauded more than 73,000 homeowners across the country out of more than $1 billion through fraudulent mortgage-relief scams.
"With many homeowners still struggling to hold onto their homes, the FTC takes a hard line against con artists who are seeking their next victim," Federal Trade Commission Chairman Jon Leibowitz said in a news release issued as the federal government's Distressed Homeowner Initiative marked its first year of enforcement.
Post continues below
Exactly how the schemes work vary. But they usually involve a scammer who offers to get a homeowner a mortgage modification or otherwise prevent foreclosure if the homeowner pays a substantial fee upfront.
The homeowner ends up out the money, without a mortgage modification and often losing the home to foreclosure.
One such scheme in the Riverside, Calif., area, for example, extracted more than $7 million from 4,000 distressed homeowners seeking mortgage modifications, many of whom subsequently lost their homes to foreclosure. The U.S. attorney in the central district of California brought criminal charges against 11 people in that scam last month.
These types of cases have replaced original-mortgage scenarios as the most common type of mortgage fraud, the FBI says.
"Mortgage-fraud perpetrators are resilient. They adapt their schemes to changes in economic conditions and in lending practices," said Kevin Perkins, associate deputy director of the FBI, at a news conference announcing the results of the year-long initiative.
Federal agencies also shut down or took other action against more than 900 "fraudulent or confusing websites and web advertisers" that used the U.S. Treasury seal and the names of key federal housing-relief programs "in an effort to dupe struggling homeowners looking for someone to help them," Attorney General Eric Holder said.   
While such frauds have taken place all over the country, federal officials said that Los Angeles area is the epicenter of the schemes. The California Real Estate Fraud Report details many such cases, as well as other types of real-estate fraud.
The FBI has examples of fliers offering bogus mortgage relief and tips on how to avoid scams, as well as a public-service announcement by actor Tim DeKay of "White Collar." The Financial Fraud Enforcement Task Force also has information on how to avoid becoming a victim.
About Teresa Mears
Teresa Mears is a veteran journalist who has been interested in houses since her father took her to tax auctions to carry the cash at age 10. A former editor of The Miami Herald's Home & Design section, she lives in South Florida where, in addition to writing about real estate, she publishes Miami on the Cheap to help her neighbors adjust to the loss of 60% of their property value.
msn real estate is social
FIND YOUR DREAM HOME OR APARTMENT
WHAT'S YOUR HOME WORTH?
HOME IMPROVEMENT PROFESSIONALS
from our partners