Home as investment? That's so 2005
New Coldwell Banker commercials emphasize the intangible value of homes. The ads are voiced by actor Tom Selleck, whose father and siblings were in real estate.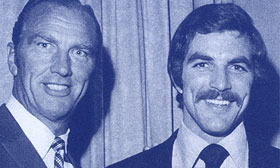 The housing crisis has taught all of us a hard lesson: A home is not an investment. A home is a place to live.
Coldwell Banker Real Estate just launched a new advertising campaign with that hook, using the voice of actor Tom Selleck, whose father worked 38 years for the real-estate company.
"People's homes are so important because they are the setting for life's most meaningful moments," Michael Fischer, chief marketing officer for Coldwell Banker, said in a news release. "While the economics of homebuying are critical, we must remember there is much more to it: lifestyle, memories, family and pride of ownership."
It's certainly a lot more cheerful to add up the good times you've had in your house than it is to subtract how much monetary value it has lost. Expecting one's home to rise substantially in value has not always been part of the American dream of homeownership, and the current housing crisis has been a painful reminder of that.
A total of 22.8% of U.S. mortgages are underwater, according to the latest CoreLogic data. Home values are back to 2002 levels nationally and lower than that in some cities, and prices are likely to fall further in some areas.
That doesn't mean that homeowners aren't finding intangible values in their homes, which is the sentiment that Coldwell Banker is trying to tap.
Whether you consider your home an investment depends as much on you as it does on the home and its value, writes Trent Hamm at The Simple Dollar. If you're planning to move soon, the price matters a lot more to you than it does if you're planning to stay forever.
This is how one of the Coldwell Banker commercials (in Tom Selleck's voice) calculates home value:
"You start by taking the smell of pancakes made on a Sunday morning and times that by the sound of kids laughing from the bottom of their bellies. Then you add the taste of a good cabernet with family at Thanksgiving and multiply that by the warmth of a winter fire. Then you subtract the stress of work and minus the struggles of the outside world, add the power of a bedtime story and times that by the square root of a grandmother kissing her grandchild. Multiply all this by about 50,000 memories and 100,000 smiles. And then you have a value of a home."
Other short commercials start out, "Here's to kids – and all the things that make a house a home," with pets and backyards also being toasted. Inman News has videos of the commercials.
Selleck's father retired as an executive vice president at Coldwell Banker, and his sister and two brothers also worked in real estate. As he struggled to make it as an actor, his father more than once suggested he get a real-estate license. From quotes by Selleck provided by Coldwell Banker: "It was indeed a proud moment when I was able to tell my mom that I was, at last, in the family business."
What do you think? Has Americans' view of homeownership shifted enough from investment to lifestyle to respond to these commercials?
FIND YOUR DREAM HOME OR APARTMENT
msn real estate is social
WHAT'S YOUR HOME WORTH?
HOME IMPROVEMENT PROFESSIONALS
more on msn real estate