Barkitecture: Modern abodes for dogs
Charity events let architects turn their imaginations loose on canine castles. Think of them as an inspiration for a DIY project.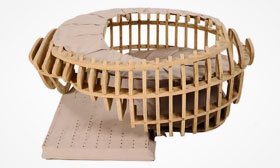 It's hard to find any structure that's as much fun as an architect-designed doghouse.
In late October, 11 creative doghouses were auctioned off for charity during Barkitecture Houston. Other cities hold similar events.
CultureMap Houston brings us a slide show of some of the more than 20 creations submitted. While all are more elaborate than most of us could construct ourselves, they're far from the level of complexity of the $234,000 playhouse or the canine castles built to resemble the owners' homes. If you're crafty, you could make your own dog (or cat) a structure in a modern style as a do-it-yourself project.
Post continues below
"Le Dog Hausss," designed by the firm RdLR, is a takeoff of Le Corbusier's Villa Savoye, but much more colorful. My cats want this one.
Does your dog like to chase tennis balls? Rottet Studio's modernist abode included an entire wall of yellow tennis balls.
Bowing to the reality that dogs (and cats) always prefer drinking from puddles to their own bowls, Newberry Campa designed a simple home that included a galvanized drinking trough outside the house.
One modern wooden shelter can also be used as an outdoor table, so it still has a use if your dog hates it and holds out for a Victorian.
For the small dog that likes to burrow, Abel Design Group created a circular home with stairs from bottom to top (photo).
Other designs included an expandable, tentlike structure and a home shaped like a rescue helicopter.
You can see previous years' entries here. Maybe it's time for you to spruce up Fido's castle. Get some tips from the DIY Network here.
It's not the same as having Frank Lloyd Wright build you a doghouse, but you never know. Perhaps when you're 68 like Jim Berger, who persuaded Wright to design his doghouse in 1956, your Barkitecture architect may be famous, too.
FIND YOUR DREAM HOME OR APARTMENT
msn real estate is social
WHAT'S YOUR HOME WORTH?
HOME IMPROVEMENT PROFESSIONALS